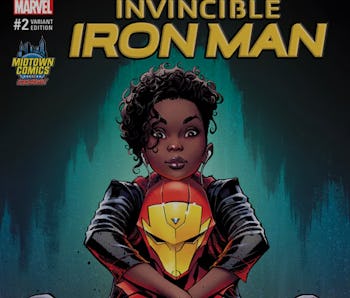 Entertainment
J. Scott Campbell Earns Second Chance on Riri Iron Man Cover
Marvel Comics, J. Scott Campbell
Marvel Comics attracted some controversy recently when one of the variant covers for the new Invincible Iron Man depicted the book's new heroine Riri Williams, a 15-year-old teenager, in a pose that unnecessarily sexualized the young character. The uproar caused Marvel to pull the cover. Now, Campbell's second, better attempt at depicting Riri Williams is available as a variant cover.
When the initial controversy broke out, Campbell dismissed the furor as an "SJW whine-fest." However, after getting his cover pulled by the comic book publisher and Marvel putting in a concerted effort to combat the belief that Riri will become another in a long line of hyper-sexualized teenage girls, Campbell uploaded a new cover titled "Riri Rethink" on his personal Facebook page.
At the time Campbell posted the image, it was not an official cover preview. It wasn't even drawn as a response to his critics. Instead, Campbell merely stated that it was a second attempt at the character.
The new art was considerably better received by fans, and while it wasn't an official cover art, Campbell explained that since fan's voices pulled the old cover, their support might instate the new one in its place. Lo and behold, it happened. Campbell's "Riri Redux" is now an official variant cover for The Invincible Iron Man #2 for Midtown Comics.
The Invincible Iron Man writer Brian Michael Bendis recently commented about the cover controversy to Inverse. "I thought what everyone else thought!" Bendis explained, "I like J. Scott's work, but that cover was being done for a retailer program. It's more of a marketing thing than making a book thing. I didn't have anything to do with that. I'm not passing the buck. I just literally saw it when everyone else saw it." Bendis is glad, however, that Campbell's second cover was better received by fans, and that it captures the spirit of the book.
Fans can pre-order the variant cover, which will hit comic book shelves December 21, 2016, through Midtown Comic's website.