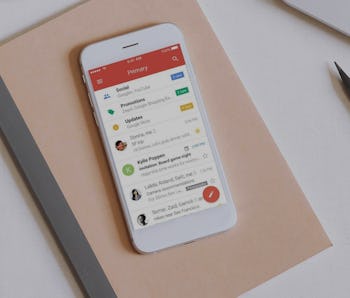 Innovation
How To Un-Send an Email With the New Gmail iPhone App
Finally, a way to remove our feet from our mouths.
Google
Google released the biggest update Gmail for iOS has seen in years on Monday. The app has a new design, an easier-to-use swipe tool for archiving messages, and other improvements that make it feel more like a modern email tool. But all of those updates pale in comparison to the ability to take back a sent message.
Undo Send has been a feature in Gmail's desktop version for years: It got its start as an experimental tool, but it became an official part of the service in June 2015. (You can enable the feature by signing in to your Gmail account, going to the Settings page, then marking the box next to Undo Send in the General tab.)
The feature is limited in its scope. You can only choose a "cancellation period" of five, 10, 20, or 30 seconds — there's no way to retract a cringeworthy email any longer after the fact. It's still useful, though, if you accidentally send a message to the wrong person or fail to notice an embarrassing typo in an important email.
All of which makes Undo Send a, well, godsend. But the feature was strangely absent from the app that could use it the most — emailing via iPhone often ends poorly — until this update. It was already included in the Gmail team's futuristic Inbox app, but hadn't made its way to the normal Gmail app.
Inbox is an email app from Google that uses A.I. to help people manage the chaos of their digital lives. It orders messages based on their importance; offers access to flight data, delivery notifications, and other information at a glance. Inbox is clearly the company favorite.
Yet the wait for Undo Send to come to Gmail for iOS has ended. Sending a message to the wrong person, not catching an autocorrected sentence until it's too late, or messaging something that was better left unsaid is no longer a big deal. Actions have consequences; sending an email doesn't have to. So go ahead and download the new Gmail for iOS and enable Undo Send before it's too late.