Benedict Cumberbatch Just Introduced the Apple Toilet on 'SNL'
We'd probably buy it, to be fair.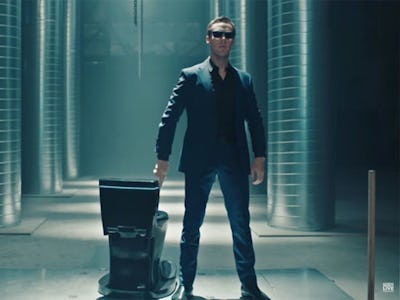 YouTube Screenshot
Benedict Cumberbatch, star of Marvel's Doctor Strange, hosted this week's episode of Saturday Night Live and showed the world how to look cool on a toilet — which is no easy feat. Thanks to a new (albeit fake) toilet featured in a hilarious fake commercial from Kohler, you too can look as cool as Cumberbatch.
The sketch is a spoof of Apple's legendary 1984 commercial, presenting a fancy new toilet as an agent of change in a bleak, dystopian future. In the sketch, cast members are featured perched on traditional porcelain thrones, while staring blankly at a large screen as an authority figure instructs them on how to properly use the toilet.
"It is against regulation to look cool or exude confidence sitting on the toilet," the man barks at the crowd. That is until Cumberbatch comes strolling in Neo style, and toting a sledge hammer. "No," he exclaims as he busts open a box, unveiling what he calls the future: a shiny black toilet.
Designed by Kohler, the new, "Koohl" toilet features a reverse-bowl design, allowing the user to casually drape their arms across the tank, looking suave while sitting on a typically unstylish appliance.
Introducing the Koohl Toilet by Kohler, the narrator explained. "A sleek reverse bowl toilet that you sit on the cool way. With your arms casually draped over the top. The craftsmanship you expect from Kohler coupled with revolutionary design it brings confidence into the bathroom."
Who knew toilets could change the world as we know it? A caped mystic, that's who.