Amazon Just Made Black Friday Its Own Season
Hello capitalism, my old friend.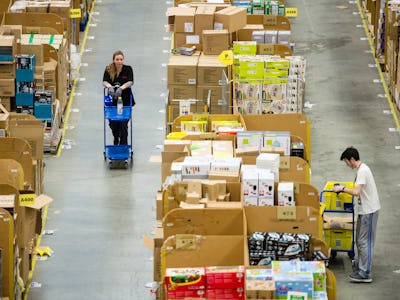 Getty Images / Jeff Spicer
Amazon is getting into the holiday spirit even earlier this year. On Tuesday, the online retailer opened up its "Black Friday Deals Store" weeks before the day after Thanksgiving. This is Amazon's way of kicking "off the savings a little early" and effectively turning Black Friday into its own season with the campaign running until December 22 — a whopping 52 days. Chicago has had springs shorter than this Black Friday scheme. And while shoppers might be able to find a bargain during this multi-week period, it really just speaks to Amazon's exorbitant influence on consumerism.
Black Friday has definitely transformed over the past couple of years thanks to the rise of online shopping, but Amazon's campaign sucks the fun out of the shopping holiday. There's something exciting about finding the perfect present for a friend or family member with a reasonable price tag. It's a triumphant moment when a shopper emerges from the department store, bags in hands, with gifts to wrap. Amazon watering down Black Friday by making it practically a season parallels with other corporations stretching out holidays, like when Starbucks locations magically turn into winter wonderlands right after Thanksgiving. Being bombarded by festive imagery can exhaust people to the point where they don't even want to celebrate the actual holiday.
And Amazon's November 1 Black Friday Deals don't even look like the sorts of gifts most people would enjoy for Christmas or Hanukkah. Sure, some people might want to receive fish oil supplements, but it doesn't exactly scream Yuletide.
On top of starting Black Friday deals at the beginning of November, Amazon is also touting some of its other shopping features. According to their press release, people will now be able to ask their Alexa-enabled devices to make purchases through voice commands. Shoppers are also apparently able to use the Amazon app and phone cameras together. They just need to point the lens at an object and the app will pull up similar items.
Obviously Amazon just wants people to spend more money by playing up these creative marketing gimmicks. And while Amazon might be actually affecting the economy such as taking foot traffic away from stores, it's unlikely that turning Black Friday into a season will have as big of an impact. There are plenty of people who will continue to look forward to getting out of bed the morning after Thanksgiving, still full on turkey, and hitting up stores old-fashioned style.