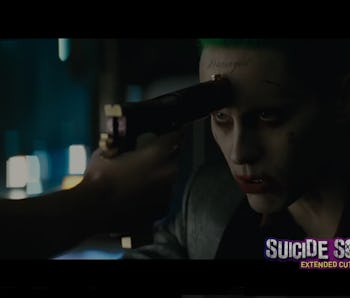 Entertainment
Harley Threatens Joker in 'Suicide Squad' Long Cut Trailer
Warner Bros, DC Entertainment
DC's Suicide Squad will follow in Batman v Superman: Dawn of Justice's footsteps when it receives an extended Blu-ray cut loaded with new scenes. Judging from the extended film's new trailer, the three characters benefiting from the extra screen time appear to be Joker, Harley, and Katana.
When Suicide Squad first opened, reviewers criticized the disjointed nature of the film, and some complained that parts of the film felt incomplete or too heavily edited. Even Jared Leto famously questioned where all the scenes he shot for Suicide Squad had disappeared to.
Well, it looks as if all those Joker scenes were saved for the extended home release, for better or worse. While hopefully the whole film benefits from the longer runtime, Harley and Joker appear to be the main focus of the new extended cut trailer. Joker and Harley's existing scenes from the film, including the interrogation scene between Joker, Harley, and some electro-shock therapy tools, appear to be more fleshed out.
All the while, there appears to be completely new scenes like a pre- Harley Dr. Quinzel holding Joker hostage at gunpoint. Hopefully, more of these early history scenes give Joker and Harley's pre-"crazy criminal couple" phase more context, turning it into something much more substantial than the twisted meet-cute seen in the theatrical version of the film.
Another beneficiary of the extended cut — at least judging by their prominence in the trailer — is Katana, the mysterious swordswoman whose samurai sword is haunted by the soul of her dead husband. In the theatrical release, her character never fully developed, having been given a pretty nonsensical introduction before disappearing for long periods of time. Her only real moment was when she cried over her sword, which felt like it was supposed to be important, but had so little context it just appeared jarring.
Now, however, Katana and all of her haunted samurai prowess are on full display in the extended trailer, and this hopefully means that the character also benefits from some much-needed characterization and action scenes, because a character whose sword devours the souls of her victims is too cool to not get some badass action scenes.
All in all, the film definitely deserves an extended cut, one without the seemingly damaging edits which made the film hard to follow at times. While it's unclear how these edits will ultimately affect Suicide Squad, more context and better characterization is always a welcome addition, especially for a team ensemble such as this one.
Suicide Squad Extended Cut comes out on Digital HD November 15, and Blu-ray on December 13, 2017.