'Arrow' leaves Its B-Team Behind in "Penance"
Can the joy of watching Oliver Queen fight in black ops gear counterbalance the series of poor decisions it took to get there?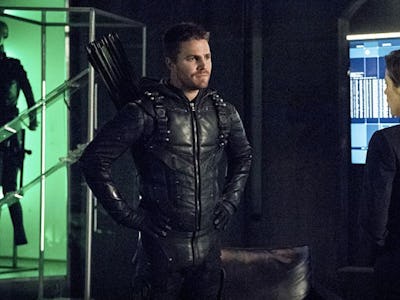 Arrow/CW
Even Arrow can't ruin a prison break … sort of.
While this week's episode "Penance" delivers on last week's call to action — Lyla (Audrey Marie Anderson) approached Oliver (Stephen Amell) to help her break Diggle (David Ramsey) out of military prison — it for some reason does so without Wentworth Miller and Dominic Purcell, two actual Prison Break alums that are now in the DC TV-verse. In some circles, that's just considered dropping the ball.
What this week's Arrow actually does deliver on is reminding us why we loved Oliver Queen in the first place. In his quest to free Diggle from the shackles of military imprisonment and ghost Suicide Squad-ers, Oliver ditches the Green Arrow suit for a little unsanctioned black ops action. Of course, he does so without Felicity's (Emily Bett Rickards) blessing or the help of the B-Team Arrow. But for all of Oliver's problems with trusting and connecting with people, "Penance" is a pretty good reminder of how Oliver is also very good at what he does. He may not be the best team player and is definitely not the best politician, but there's a reason why he led the vigilante charge and, as the flashbacks show, has been recruited into so many different ridiculous missions. He's really, really good at righting wrongs outside of the system. For all the problems of the past couple of seasons, a reminder of what made Oliver Queen compelling in the first place is definitely a good move for Arrow.
Unfortunately, the thing about separating the B-Team Arrow from the Green Arrow is that everything falls apart catastrophically for the more inexperienced team without the guidance from their reluctant teacher. Oliver literally drops the team on his way to prison break Diggle, because if we're being honest, they have no stake in this fight or even close to the level of skill to help him out. Plus, as the end of the plot actually proves, with Lyla and the jet, there was already a pretty damn perfect plan in place to begin with. But even with that logical separation, it doesn't excuse just how boring the Felicity/B-Team Arrow/Tobias Church plot in this episode. It's not even necessarily the B-Team's fault though, as the emotional weight of their storyline centers around and attack on Star City's Anti-Crime Unit (ACU), which has barely been a blip on the radar since the season premiere. There's no way for that to compete with the deep and true emotional connection between Diggle and Oliver.
Then, unsurprisingly, the B-Team Arrow plot ends with a member of the team (Curtis) getting seriously hurt and another member of the team (Rene, because of course it is) getting kidnapped and tortured by Church (Chad L. Coleman).
As for the prison break, despite it being the more interesting storyline of this week's episode by far, it's also a reminder of just how short-sighted and narrow-minded the characters on this show can be. Because as great and honest of a moment as it is when Oliver tells Diggle he's springing him from prison because Diggle's his brother ("Whatever happens to you happens to me."), Diggle's original decision to stay in military prison as penance for murdering his brother Andy isn't noble or honorable. Even ignoring the fact that Andy was so far gone that he would have ultimately killed Diggle, Lyla, and their child had Diggle let him go free, Diggle staying in military prison for a crime he didn't commit allows the actual military criminals to roam free to frame and kill other innocents. Why on earth would Diggle leave behind his child, just to prove a point that isn't even a good one? Diggle's life isn't the only one in question either, as the revelation that his commanding officer is corrupt resulted in one of his Army colleagues, a rookie, being murdered right in front of Diggle.
Plus, the prison break should have never been Plan A. At no point do Lyla or Oliver attempt to go through the proper channels (Plan A) — or even bend the rules a bit (Plan B) — to prove the guilt of Diggle's commanding officer and lackeys. Hacker Felicity doesn't look for a paper trail (Plan C). If Diggle and Oliver were eligible for the B-Team Arrow class rankings, they'd almost be at the bottom of the list this week. The major reason they're not is because prison breaks are fun, and Oliver wears a black mask that is the closest we'll get to Stephen Amell wearing a cool hockey mask.
The other reason is because prison break or not, Rene (Rick Gonzalez) still remains at the very bottom of the list.