Natural Selection at Work: 'Evolve' Is Dead
Turtle Rock Studios leaves their four-on-one squad-based monster shooter.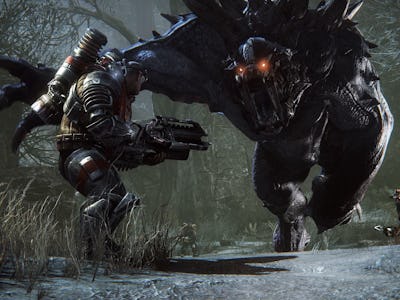 2K Games has evidently pulled the plug on their co-op monster hunting shooter Evolve, if a statement from developer Turtle Rock Games is to be believed.
Via a post on the developer's community forums earlier this week, the team announced its departure from the project, stating "today is the last day that Turtle Rock Studios can work on Evolve." No specific reasons for the departure were given aside from the legality of working with corporate properties, and the in-development free-to-play PS4 version of the game is presumed dead.
"This is the life of AAA game developers who aren't self-funded and don't own their own IP. We don't get to make the call," the statement says. It is signed by Phil Robb and Chris Ashton, the game's creative and design directors, respectively.
In development over the course of five and a half years, Evolve seemingly grew out of Turtle Rock's work on Left 4 Dead which popularized the concept of a squad-based monster shooter. Evolve, conceptually, took the idea to the next level, with four-player squads teaming up in co-op to fight a massive monster controlled by a fifth player in online battles.
Yet, what appears to be the game's abrupt cancellation comes after a long period of struggle for the ambitious title. After the game's launch in 2015, player interest quickly waned, in large part due to an overly aggressive and costly DLC plan that left players feeling cheated — what the developers have called a "DLC shitstorm" for a multiplayer-only title. (It's not the only game to get flak for DLC, either.)
After its largely mixed initial reception, the developers attempted a pivot by making Evolve free to play earlier this year on PC as Evolve Stage 2, which included a number of tweaks to address complaints over imbalances with the monsters.
Turtle Rock thanked 2K for their support, financial and otherwise, in making that transition, as well as the original idea itself, in their forum post. But from a business perspective, 2K has every reason to kill Evolve — as interesting as the idea was, it did not gain the traction needed to make it a viable online property with a userbase to justify the cost of development upkeep, with players numbers dwindling as low as the hundreds. We've reached out to 2K for comment, and will update this story if they respond.
Although Turtle Rock's letter doesn't explicitly say the game is cancelled, the sheer amount of overhaul and resources that would be required to either fix the game or develop a sequel seems an unlikely scenario at best. It's also unclear whether Turtle Rock is still working with 2K on an undisclosed new project or simply parting ways from the company altogether, though the studio's community manager later stated on the forum the company had ended their contract to work on Evolve.
Turtle Rock is also hosting a farewell live stream later this week. Fans interested can go to the studio's Twitch page on Thursday, October 27 at 12 p.m. PT to pay their final respects.