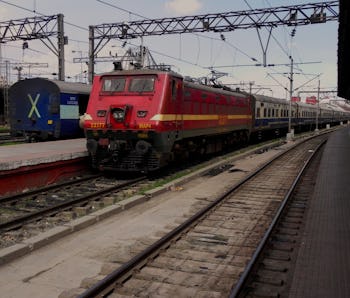 Culture
Google Provides India's Train Passengers With Porn
A noble experiment yields predictable results.
Flickr
India's Patna train station, one of the busiest in the country, has become a hotspot for watching porn. According to The Economic Times, people are using the free wifi to access adult entertainment. Catching up on some XXX films while waiting for the train might sound like something to joke about, but this phenomenon speaks to the culture of repressed sexuality in India.
Google works with Indian corporation RailTel to provide the free wifi at the train station, an initiative that was launched last year. More than 200 trains pass through Patna everyday, making it one of India's most crowded stations. A RailTel official told The Economic Times, "More than anything, porn sites have been watched and downloaded by the people at Patna railway station."
While heavy pornography consumption can lead to unhealthy and unrealistic expectations about sex, there can also be various benefits. Watching porn can help some people explore their sexuality and learn what they like, along with being a way to release some of their pent-up horniness.
As Quartz points out, Pornhub found that the country came in third place for the proportion of worldwide traffic in 2015. This doesn't come as a surprise considering India's infamous repression of sexuality.
In Bollywood movies, passionate kisses are uncommon. Heavy make-outs and actual sex scenes are pretty much nonexistent because the genre depends on elaborate, over-the-top musical numbers to demonstrate intimate emotions. And without mainstream conversations about sexuality, total restraint of normal carnal urges can sometimes become dangerous. Some have even postulated that there's a connection between men's sexual frustration and the increase in sexual assaults against women in the country.
India lags compared to other countries when it comes to how much of the population has access to the internet. Earlier this year, the Pew Research Center reported only 22 percent of the population is online. Striving to have free wifi at train stations makes sense, even when it results with a bunch of people watching and searching for porn. And while there's definitely people who are partaking in some viewing activities while waiting to board their train, we figure that a good number of Patna visitors come specifically with the intent of watching pornography on their devices.
There are plans to eventually install wifi at 400 rail stations in India. It's unclear if these hundred of locations will also become hubs for porn watching. But you know what they say — if you build it, they will cum.