The New 'Pokemon' Demo Is a Delicious Taste of Island Life
The new demo is well worth checking out.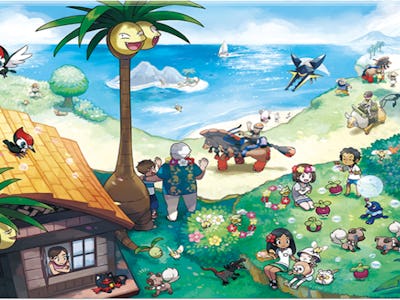 The Pokemon Wiki
The Pokémon Sun and Moon demo is finally out, taking us to the sunny isles of Alola. Apart from the chill ukulele tunes, the demo includes the games' new Z-moves, one of the new island trials, and even some Pokémon Snap-style photography. There's more it than that, though. Here's some of the highlights.
Play With Z-Moves
The demo is an excellent sampling of the newest features coming to Pokémon, and Z-Moves, special abilities you unlock by equipping a Z-Ring and Z-Crystal, are definitely one of the better ones. Each move is even accompanied by a fully animated cutscene! Pikachu's "Gigavolt Havoc" Z-Move looks incredibly badass, giving the tiny electro-mouse a little more credibility.
Complete One of the New Trials
Nintendo made some waves when it revealed traditional gym battles would be shook up by something called "trials." The demo lets you try the new system out, and, all-told? It looks super exciting. You'll still be fighting trainers and bosses, but the trial also requires you to explore an island full of wild Pokémon. The demo, for example, takes you through a dragon-infested cave where you use the new Poké Finder to take snapshots of critters, too. Pokémon as a franchise has always embraced exploration, but the island trials feel like they will truly open the game up.
See the New Pokémon in Action
For the first time, you can head into the tall grass to see some exciting new Pokémon. Rockruff is an adorable little rock puppy, and let's not forget the newly discovered Alolan version of Dugtrio. Yes, older, familiar Pokémon make an appearance in Sun and Moon with new forms and abilities. It turns out Alolan Dugtrio is living the island life, and on this new continent sports long and wavy golden locks that have, naturally, set the internet on fire.
Earn Some Exclusive Swag
For completing the demo, you get an Ash-Greninja of your very own, which you can then transfer to the full version of Pokémon Sun or Moon* when the two games come out on November 18. You'll discover a few other transferable items while talking to NPCs and riding around the area with the Taurus you get for completing the demo, too.
Nintendo wants to keep folks interested in the demo in the weeks leading up to Sun and Moon's release, too. There are special NPCs scattered throughout Alola that will reward you with different items if you visit them on the correct day, so talk to everyone to figure out the schedule! Checking back with the man standing by the Poké Center on October 19, for example, grants you 10 free "Pretty Wings."