How to Build the Best Computer for Virtual Reality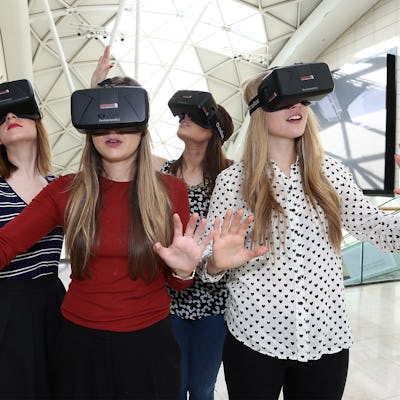 Getty Images / Tim P. Whitby
Visiting the wonderful world of virtual reality isn't cheap. The headsets are expensive, the games often cost more than their mobile counterparts, and the setup requires a computer that can meet VR's relatively lofty requirements.
Facebook CEO Mark Zuckerberg said, at the Oculus Connect 3 conference on October 7, that PC-driven VR experiences are currently the best available and, even though Facebook is experimenting with a standalone Oculus headset, that's unlikely to change any time soon. "That is the highest quality of virtual reality experience that you can get today," Zuckerberg said then. "It's really powerful. It's powered by a high-powered computer, which means it's a little more expensive."
That last part is supposed to be getting better. Also speaking at the conference, Oculus CEO Brendan Iribe said that the cost of owning a PC, that can handle the Oculus Rift, has fallen since the headset's debut. "PC VR is more affordable than ever," he said, adding that getting an Oculus-ready PC can cost less than $700. That's a sharp dip from the roughly $1,200 people were expected to spend on the requisite components in 2015.
But how are people supposed to meet those goals? Oculus partnered with a number of vendors to create Oculus-ready PCs, and Iribe said the company now has 11 partners, making more than 40 machines, but many of them cost far more than $700, even when the cost of the Oculus Rift is taken off the price tag.
We did the digging for you. Here's how to get a PC that Oculus says is ready for the VR revolution:
Look, go to a Best Buy.
In addition to partnering with manufacturers to bundle Oculus Rift equipment, with PCs that can handle the tech, Oculus has partnered with Amazon, Microsoft, and Best Buy to help people find VR-ready components online. In my rigorous review, Best Buy was the most helpful of the retailers when it comes to offering VR equipment.
It also had some of the best deals. Inverse selected the cheapest of each component listed — which included RAM, power supply, a processor, a GPU, and a hard drive — on Best Buy's page, devoted to VR. We then sought the same products on Newegg, an online retailer, popular amongst do-it-yourself computer enthusiasts, and Amazon. Best Buy easily defeated both when it came to cost.
A VR-ready PC, built from components purchased from Best Buy, can cost between $638 and $913 depending on the GPU selected. Newegg's cost $370, but that's only because the same model of GPU wasn't available; if that were included, the cost would quickly outpace Best Buy's. Amazon didn't have many of the products listed, and its equivalents cost around $837, depending on the chosen GPU.
Be prepared to reuse old supplies.
None of those figures included the cost of a case, motherboard, operating system, or any of the other things required to make a functioning computer. Including those would easily put us over the $700 limit — if you want to spend less than that, you'll have to pick-and-choose parts instead of starting from scratch.
Just be careful to make sure your existing setup can handle these new components. Overheating isn't pretty, and you probably don't want to tinker with malfunctioning components the first time you attempt to use a VR headset. Though maybe the best thing about building a PC, specifically for Rift, is that you don't have to worry about a fancy monitor.
Wait for prices to continue to fall.
The good news is that components get cheaper all the time! That's why the "minimum" investment to get an Oculus-ready PC has fallen over the last year. As new tech is introduced, prices for existing components will fall until someone can actually build a PC, complete with operating system and monitor, for under $700, without having to learn everything there is to learn about building a computer.
The same is true for VR headsets. The $600 price of the Oculus Rift is steep, even without the need for a souped-up PC to use it. Prices of the original Rift could fall whenever a new model is introduced; by that point you're likely to be able to afford a PC that can use the first model without much trouble. Just be patient.
Or just buy this pre-made, Oculus-ready computer.
Many of the Oculus-ready PCs cost far more than $700. One from Dell starts at $1,099; Lenovo's desktop starts at $1,350; a machine from Falcon Northwest starts at $2,900. But there is one potential savior: this machine from CyberPowerPC. It costs $699.99 without a monitor — just low enough to meet Iribe's requirement for something that costs less than $700.