Marvel's Black Widow and Winter Soldier Will Finally Hook Up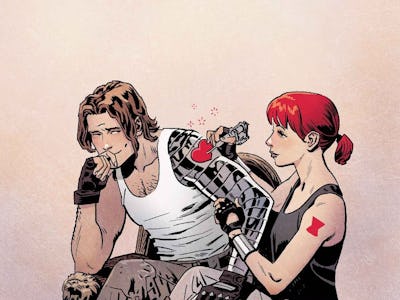 Marvel Comics, Chris Samnee, Matt Wilson
If you're not reading Mark Waid and Chris Samnee's Black Widow, you are missing out on one of the best spy comics currently running. The stunning, tense story is about to get a lot steamier, though: Black Widow and Bucky Barnes look like they might heat things up Soviet-style in Black Widow #10.
Mark Waid's Black Widow series is, frankly, the best spy story currently available in any medium. With gorgeous artwork from Samnee, Black Widow stars a very badass Natasha Romanoff who has gone rogue in order to track down pieces of her less-than-honorable past. With beautifully choreographed action sequences and fantastic mastery over spy fiction tropes, Black Widow singlehandedly makes the case for a Black Widow solo movie.
Of course, since the story involves Natasha's Soviet past, it obviously also includes Marvel's other famous commie spy, Bucky Barnes, aka the Winter Soldier.
It turns out there's a sizable chunk of the internet very much invested in the Black Widow/Winter Soldier pairing, or as it's referred to, "WinterWidow". The fan-preferred couple is a little weird considering the only interactions the two have had in the Marvel Cinematic Universe is trying to kill each other, like the time Bucky shot her while they were both spies or the time he was strangling her when they both weren't spies.
However, the two have a long romantic history in the comics, and this cover by Chris Samnee and Matt Wilson? Pure fandom gold.
Black Widow #10 will be in comic book stores and digital retailers January 2017.