Elon Musk Just Slammed a Major Coal CEO Who Called Tesla a "Fraud"
"The real fraud is denying climate change science."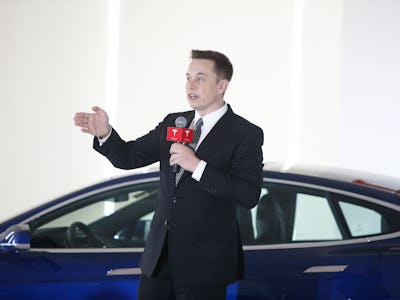 Getty Images / VCG
Elon Musk had an epic showdown with a major coal-mining CEO on Monday, and the Tesla head honcho tweeted a fiery, righteous response to his fossil-fueled rival's accusations of fraud.
Robert Murray, the 76-year-old CEO of the biggest privately owned U.S. coal producer, Murray Energy Corp., made an appearance on CNBC where he accused Tesla Motors of being "fraud" because it was collecting subsidies thanks to current energy policies that Hillary Clinton supports.
Musk took to Twitter to share Murray's remarks before punching back.
"Real fraud going on is denial of climate science," he wrote, before bringing up the massive subsidies that the coal industry gets under current policy. According to a 2015 report, the fossil fuel industry was getting upwards of $20 billion in subsidies.
"Tesla gets pennies on dollar vs coal," he wrote. "How about we both go to zero?"
A 2015 Los Angeles Times story concluded that Tesla had received slightly less than $2.4 million in subsidies that year.
Tesla, which is probably still best known for its electric cars, announced over the summer that the company was changing its mission from "transport" to "energy." Musk, therefore, has a real dog in this fight, and a motivation behind his fire tweets.
Plus, you know, climate change is super real.