'Jurassic World 2' Will Fight for Velociraptor Rights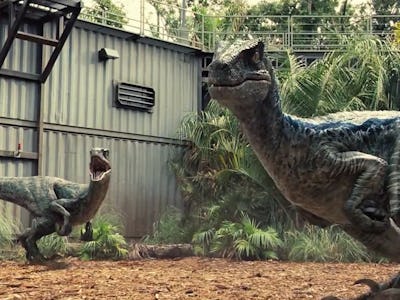 Facebook /JurassicWorld
In Jurassic World, we came to know and love a squad of loyal velociraptors, who helped Chris Pratt fight off more aggressive predators. But raptors have rights too, and the director of Jurassic World 2, says the sequel will be a battle for inalienable dinosaur liberties.
While Jurassic World was a competent rehash of the original movie's simple dinosaurs-run-amok blockbuster conceit, director J.A. Bayona's sequel will look to add more substance to all the prehistoric action. In an interview with El Mundo, Bayona says Jurassic World 2 will be more of a "parable about animal rights."
Bayona is currently doing press at the Sitges Film Festival in Spain for his recent Spielbergian movie A Monster Calls and told Spanish-language newspaper El Mundo that he's trying to make the relationship between dinosaurs and man in the blockbuster sequel a bit more complicated than people trying to to not get eaten by Velociraptors.
Translated from the article's original Spanish, the director said:
"Both Jack [Horner paleontology consultant] and me, we are concerned about man's relationship with animals. Dinosaurs are a parable about the treatment of animals today: abuse, medical experiments, pets, wild animals in zoos that seem like prisons, military use has been made of them, animals and weapons.
It later mentions that Jurassic World director and Jurassic World 2 producer Colin Trevorrow said that the theme of the film will be "exacerbated consumerism."
The series has mostly hidden a lot of these sorts of themes in its subtext, but it'll be interesting to see how Bayona and Trevorrow pivot the series to deal with more complex issues like animal rights, especially if we're talking about once-extinct dinosaurs. If anything it sounds like the filmmaking pair are taking some cues from the rebooted Planet of the Apes franchise, which has successfully managed to blend its blockbuster scale with some commentary on how man tries to subvert nature or vice versa.
Trevorrow recently shot down rumors that the sequel will pick up on the first movie's implication that the park's dinos will be militarized, but this new bit of information makes sense considering a supporting character's ignominious exit from the first movie.
If you remember, actor BD Wong's potentially evil Henry Wu character high-tailed it off the island with a bunch of dinosaur embryos in tow, so we're most likely going to see how he manages to exploit those dinosaurs for some kind of weird experiments in the sequel.
Jurassic World 2 is set to hit theaters on June 22, 2018.