SNL's 'Stranger Things' Sketch Introduces Lucas's Parents
Where the hell are Lucas Sinclairs parents?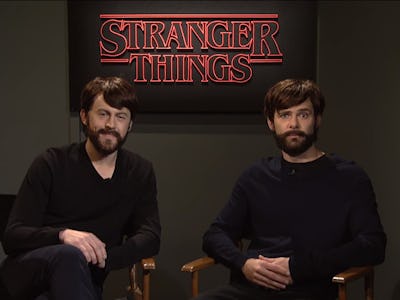 YouTube/SNL/NBC
Beloved Broadway star Lin-Manuel Miranda hosted Saturday Night Live this week, starring in a sketch that tackles one of the lingering questions for fans of the Netflix drama Stranger Things: Just where the heck are Lucas Sinclair's parents?
The sketch shows the trio of Mike, Lucas, and Dustin (played by Miranda), preparing to go look for their friend Will in the Upside Down. Lucas taunts Dustin for being scared of the Demogorgon and claims he's not afraid of anything. However, we soon learn that the freewheeling, bandana-wearing kid is scared of one thing: his parents.
But where have they been this whole time? We could craft all sorts of theories, but it appears the writers just didn't deem them worthy enough for the initial season.
In the sketch, the Sinclairs (played by Leslie Jones and Kenan Thompson) are fed up with the fact their son hasn't been home in days. When Lucas explains what the boys have been up to, Mr. and Mrs. Sinclair aren't happy to say the least.
"We have to find the Upside Down," explains Lucas (played by Sasheer Zamata). "It's like the normal world, only scarier and there's danger at every turn." Mrs. Sinclair is quick to snap back: "Baby, people who look like us, already live in the Upside Down."
No Stranger Things parody would be complete without an appearance by everyone's favorite Eggo-loving character, Eleven. Played by Kate McKinnon, Eleven uses her powers to try to stop the Sinclairs from taking Lucas home. That is, until Mrs. Sinclair proves to be scarier than the Demogorgon.
In an effort to tackle some of today's bigger issues (like the systematic racism seen across the country) with a bit of humor, the sketch then introduces Chief Hopper. When he arrives on scene, the Sinclairs start to panic and immediately put their arms in the air. Lucas tried to explain to his parents that they don't have to be afraid because he's the police chief.
"We know," they reply before pulling him away from his friends and leaving.
You can watch the full sketch, written by Zamata and SNL writer Kristen Bartlett, below: