How to Create the Best Pokémon Go Trainer Halloween Costume
When you want to stunt on your friends for Halloween.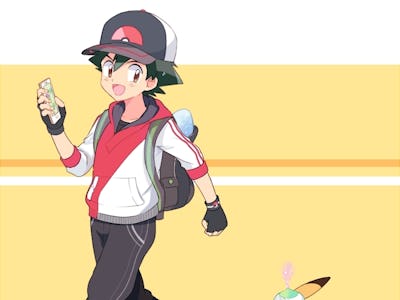 Zerochan
The days of wearing OG Pokémon costumes are long behind us. Dressing up like Ash Ketchum, Misty, Team Rocket, or Pikachu has become typical and boring. Luckily, with the Pokémon Go release over the summer, there is now a whole host of costumes that we can now dawn in order to show our Pokémon pride and revel in the drunken debauchery that is Halloween. Here is how you set yourself apart from all the other old school, regular Pokémon trainers.
Buy the full Pokémon Go Trainer uniform
Price: $128.50 - $139.50
Firstly, there is an option to buy the Pokémon Go costume in full without searching for all the other parts. It comes in multiple colors so whether you are Team Mystic, Instinct, or the legendary Team Valor, you have the ability to represent your squad. The only thing that you will need to find separately would be your sneakers, which should just be a simple pair of matching running shoes.
However, if you're not into the simplicity of this option, and want to be the flyest Pokémon trainer on the block, here are some other viable options.
The hoodie
Price: $68.80 - $76.80
The Pokémon Go hoodie is the most important piece of the outfit. You can probably get by with finessing the other pieces, but definitely not this. Just drop the money for the pullover hoodie and people will already get the general gist of who you are trying to be.
Adidas soccer pants
Price: $40 - $55
Do not forget to pull those bad boys up to about your knees. You want to give off the rolled up trainer vibe that your Pokémon Go avatar has. And always remember, if it does not have three stripes, do not buy it unless you want to be ridiculed at the Halloween party.
Black or Grey Nike Elite Basketball Crew Socks
Price: App. $15
Once again, do not forget to pull those bad boys up to your knees. You want it to seem as if your pants flow seamlessly to your socks in order to make the ensemble.
Nike Roshe Shoes
Price: App. $90
Roshes and soccer pants go together like peanut butter and jelly. Make sure the shoes match the hoodie.
The visor
Price: $5 - $25
We all know visors are usually meant for golf players and coaches on the sidelines of football games, but because your Pokémon avatar wears one, then it is a must cop for the outfit. You can either purchase an authentic visor that is a replica of the one from the game, be fly and buy a Nike visor, or if you are a more frugal person, buy it from one of the cheap hat stands in Manhattan.
Fingerless Gloves
Price: $5 - $15
Do not spend that much time searching for fingerless gloves. Unless you are a punk rocker or feel the need to warm up your hands, but not your fingers, then don't bother spending a lot of money on it.
The Backpack
Price: $35 - $800
Let's be real, nobody wants to buy a backpack to wear once and then put it away in the closet to never be seen again. The backpack is needed to complete the ensemble, but you want to be able to use it for many years to come. Pokémon Go backpacks are available online. If you're rich, an MCM backpack is a viable option. If you like to save your money, then get a Jansport backpack and make your life simple.
Now go out there and stunt for Halloween. When it is over, you will still have a lot of clothes that you can still wear in your everyday life.