The Man in Black Spends $40,000 to Go to Westworld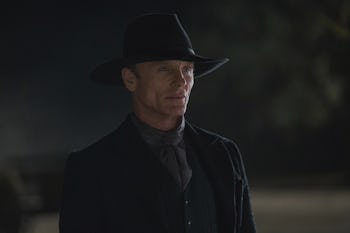 Facebook / WestworldHBO
Guests of the immersive Wild West theme park in HBO's Westworld can partake in basically anything their sadistic hearts desire — for a price. According to Aeden, a bot who calls itself the "designated guest services host and point of contact for all things Westworld" found on the show's website, DiscoverWestworld.com, it costs at least $40,000 per day for a visit to the park.
What's interesting in the world of the show is that the evil Man in Black (Ed Harris) admits to the robotic host Dolores (Evan Rachel Wood) in the premiere episode that he's frequented Westworld every year for the past 30 years for a little rest and relaxation — and robot abuse.
We still have a lot to learn about who the Man in Black really is and what his intentions are, but the fact remains that if he's been going to Westworld on vacation for the last three decades, then he's got to be insanely rich.
Here's what Aeden had to say when I asked it (him?) a question:
Yeah, you read that right. A single day in Westworld costs $40,000. Being conservative, we can assume the Man in Black went to Westworld every year for a week. In that case he'd have to pay $280,000 each year just to be the park's resident human bad guy.
His bill after three decades of decadent fun? $8.4 million.
Per Aeden, Westworld also has a 28-day maximum length of stay. If the Man in Black is truly a cruel and brutal guest who stays the maximum length every year for 30 years, he'd have forked over $33.6 million over the past 30 years to the shady Delos Corporation that runs the whole shebang.
Aeden also explained the $40,000 price tag for a visit seems to be all-inclusive, meaning you pay the money in the real world, and everything the park has to offer in terms of resources, food, and cash are available to you up to a point.
After choosing to stay for the 28-day maximum, you go to something called the Mesa Gold, which is a "decompression chamber" that sounds mostly like a sports bar where you can hang with your Westworld bros and brag about how awesome the park is. Maybe we'll get to see this in future episodes.
The point is the Man in Black is spending a whole lot of dough to do some very bad things. Perhaps in the near-future world of the show, the inflation rate makes it a little more plausible for the general public to go and have "fun" in an old western existential construct. If real-world shady tech business mogul Elon Musk thinks it's plausible for people in 2016 to save for a $200,000 trip to Mars, then $40,000 for a trip to Westworld must be chump change.
UPDATE:
Through my interaction with Aeden, and a personality evaluation on the DiscoverWestworldsite, I was able to secure a phony trip to Westworld. It's a great little viral marketing gimmick, and because the Man in Black is able to shell out disposable cash for his trips I thought I would too. It turns out I would have to pay up a lot more money than even he does. Here's what happened.
My evaluation said I'm aligned most closely with a sheriff, and if anyone knows me they know this to be true, I think?
This site then offered three available packages to sign up for on your stay in Westworld. The first is the standard, which is for noobs who have never been before. I've never been to Westworld, so naturally I moved on to the next available package.
The silver package seemed to be a bit more adventurous, and suited for the people who go to Westworld to start some shit. Considering the photo that goes along with this package is of a row of knives, this package isn't for the most peaceful guests.
I skipped over the silver and went gold because who would want to find out about "secret paths that lead straight to the outer fringes of the park"?
Before I found how how much I'd have to pay, they offered a bit more background about the Mesa Gold. I wanted to vacation after my vacation, so I went with a four-week stay in a villa.
All told, my frivolous Westworld super vacation would cost me upwards of $2 million for a week. Judging by everything they offer it seems totally worth every penny.