'Harry Potter' Phoenixes Regurgitate Healing Magic Gemstones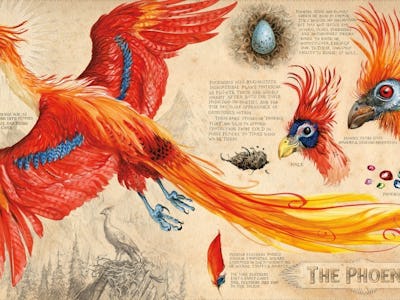 Jim Kay © Bloomsbury Publishing Plc 2015 (via Pottermore)
Phoenixes are some of the most rare, impressive, and helpful creatures in the Wizarding World; their tears have healing powers, their songs encourage bravery, and it turns out that they also regurgitate plant material and "gemstones" with medicinal and protective benefits. Called "phoenix flint," these gemstones can be worn by witches and wizards for "protection from the cold in high places."
Phoenix feathers are also immensely valuable and are sometimes used in wands — we know that Fawkes's feathers were used in Harry Potter's wand, as well as Lord Voldemort's, rendering the wands "twins," as Fawkes gave just two feathers.
Jim Kay's illustrated edition of Harry Potter comes out on October 4, but a new promo for the book gives a look at some of the illustrations for the upcoming book, including one particularly in-depth spread dedicated to new phoenix images and lore. Included are beautiful depictions of male and female phoenixes, their eggs, and phoenix flint.
The illustrations in the Jim Kay editions of the Harry Potter books are something of an essential addition to the Potter Paradigm. In a way that the original cover and chapter illustrations couldn't, the Jim Kay illustrations rewrite and reimagine the Potter aesthetic, taking it back to a time before the Warner Bros. films, to a time when it was an odd book full of things so bizarre and imaginative that it didn't feel as though they could possibly have real-world analogs.
Kay's illustrations aren't bound by effects budgets or physics, and so they offer us a new perspective on and insight into the corners of the world that are yet unexplored. The addition of Phoenix lore is just one example — we're also going to learn more about Mandrakes, Hogwarts, and the Burrow through Kay's renderings. Is it October 4 yet?