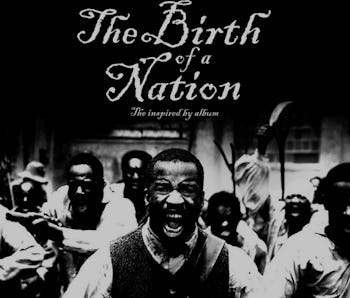 Entertainment
'The Birth of a Nation' Soundtrack Is Straight Fire
Listen to two new songs off of the soundtrack.
iTunes
Nate Parker's The Birth of a Nation comes out on October 7th, and it's about to blow up some movie theater speakers.
The film tells the story of Nat Turner's rebellion. It was the most successful slave revolt in America and an often overlooked portion of American history. The movie sold to Fox Searchlight for a record $17.5 million dollars on a wave of hype despite the fact that it's been steeped in controversy following the news that Nate Parker was the defendant in a 1999 rape case. It's yet to be seen whether Parker's legal history will affect the movie's earnings, but one thing is for sure: The soundtrack is incredible.
The story of Nat Turner is still an extremely important narrative in contemporary culture, and a whole host of artists have teamed up on the film's soundtrack. This actually may be one of the best movie soundtracks to date since Straight Outta Compton brought back the wonders of N.W.A.
Today, two new songs from the star-studded soundtrack were released and both of them are amazing.
The movie was somehow able to bring back two of the greatest Southern rap artists, Gucci Mane and Lil Wayne, to team up for the first time since 2009's "Steady Mobbin." The song slaps and gives us a line that is sure to be a caption under many Instagram posts, "I'm a prophet, a legend / I'm not beggin' / I rather die for my freedom than live like a peasant."
The second song to be released is Pusha T and Meek Mill's "Black Moses" feat. Priscilla Renea, which is another unlikely combination as Pusha T and Meek Mill have two different rapping styles that do not necessarily sound like they belong on the same record — especially one about slavery and freedom — but it works. Priscilla Renea sounds amazing on the hook, giving it this sort of spiritual and uplifting vibe.
Check out the soundtrack for The Birth of a Nation on iTunes, where it will be available for purchase tomorrow.