How to Register for 'Jeopardy!' Right Now
Everything you need to know about becoming the next 'Jeopardy!' millionaire.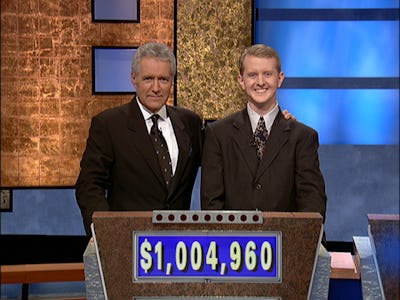 Getty Images / Getty Images
Jeopardy! is about to start recruiting new contestants for its 33rd season.
The quiz show announced it will hold its Online Contestant Test for college students on September 28 at 5 p.m. Pacific. Meanwhile, the general adult population will have opportunities to take the online test on October 4 at 5 p.m., October 5 at 6 p.m., and October 6 at 8 p.m. Pacific. You can get started by registering on Jeopardy!'s official site.
The beloved trivia show isn't shying away from the fact that the competition is steep. The show announced recently that since 2006, approximately one million people have taken the online tests. However, college students who are at least 18 are at an advantage as they're allowed to take both the college and adult tests. Also, unlike last season, Canadians will once again have the opportunity to throw their hats in.
Basically anybody is allowed to apply, that is, except if your cousin's babysitter who you chilled with at a family reunion five years ago works at Sony Pictures, Quadra Productions, CBS, or any station that broadcasts Wheel of Fortune or Jeopardy! That's right. The requirements stipulate that anyone who has been affiliated with any of the show's related production and business companies in any way within the last five years cannot apply. The same goes for those who have appeared on the show in the past. Anybody who went through the audition process after March 2015 will have to wait until the next round of tests to apply, which probably wont be until much later in 2017.
So yeah, go ahead and register now.
The 12-minute test is comprised of 50 categories and 50 corresponding clues (with the exception for Sports Jeopardy! which only has 30). Applicants are given 15 seconds to answer each clue, and heads up: Don't answer the questions with "what is…" non-question responses are the only kind that are accepted.
Trivia nerds are encouraged to take the practice tests, flip through the website's archived collection of nearly every Final Jeopardy! clue from over the last three decades, and play the game on the Jeopardy! app.
In the end, anyone aspiring to be the next Ken Jennings shouldn't hold their breath. It may take months for those who scored high to be selected for auditions.