Google Just Quietly Launched a Fleet of Ultra-HD Spy Satellites
Google now has seven high-resolution imaging satellites circling the globe.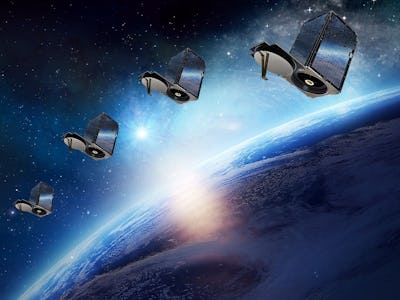 Google
There aren't many companies that can launch four incredibly high-tech, ultra-HD satellites at once and not have it be that big a deal. Google, meanwhile, can do just that. A subsidiary of the tech giant, Terra Bella, sent the satellites up earlier this month, and on Thursday, the four of them took their first detailed pictures of Earth.
Terra Bella, which was called Skybox Imaging prior to being acquired by Google in 2014, boasts that it has created the "world's most advanced small imaging satellite platform." The company launched SkySat-4, 5, 6, and 7 on September 15. They joined three other satellites already in orbit (named SkySat-1, 2, and 3, naturally), and together they make up the largest commercial constellation of imaging satellites of this nature.
How good are these cameras? Well, from their perch in a sun-synchronous orbit at an altitude of 500 kilometers, the SkySats can take pictures of the entire earth at sub-meter resolution. In layman's term's, that almost close enough to make out an individual human on the planet's surface, but not quite.
Terra Bella uses satellites to monitor terrestrial goings-on. Some of the fields that its fleet has observed are listed on the company's website, including tracking port traffic, Mongolian mining development, and disaster effects.
Some pictures Google's newest eyes in the sky took can be seen on Terra Bella's blog. They are crisp.
The four satellites were sent into space on an Arianespace Vega rocket from French Guiana, along with a Peruvian observational satellite, PerúSAT-1.