Kindred A.I. Wants Monkeys in Exo-Suits Commanding Robot Armies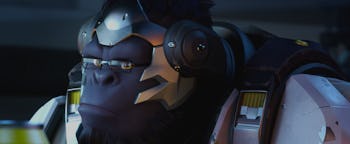 PlayOverwatch/YouTube
The co-founder of a quantum computing company envisions a future where humans and monkeys take charge of mass robotic forces by strapping into exoskeletons and commanding A.I. George Rose, the founder of D-Wave, has given little away about his involvement in Kindred Systems (also known as Kindred A.I.), but new patent applications have shed light on what the mysterious startup is doing.
A U.S. patent application, "Facilitating device control," was filed by Kindred earlier this month and published in August. It describes an exoskeleton suit that takes movement data, transfers it to the cloud and passes on commands to a team of robots. The machine's output can be used to train artificial intelligence on how to perform a task, useful for training robots how to work in an industrial setting. The suit is adjustable to fit a wide range of simians: "In various embodiments, an operator may include a non-human animal such as a monkey, and the operator interface may be generally similar to the operator interface shown in FIG. 16 but re-sized to account for the differences between a human operator and a monkey operator."
An investigation by IEEE Spectrumhttp://spectrum.ieee.org/automaton/robotics/artificial-intelligence/dwave-founder-new-startup-kindred-ai) published Thursday discovered that Rose co-founded Kindred in 2014, and remains its CEO. The secretive group has received more than $10 million in funding, but has made little public statement about its work. Kindred's website, which features the company logo and a smiling monkey, simply states: "No monkeys were harmed in the training of our A.I."
It's not the first time robotics researchers have sought to harness the power of monkey intelligence, but it may be one of the strangest. In March, Duke University researchers revealed they had been able to develop a wireless brain-machine interface that allows monkeys to roll around in a wheelchair using the power of their minds. The machine allowed the monkeys to reach a bowl of fruit using only their minds. The results were a success, but does that mean we want to place monkeys in control of a robot army?