How Creepy Co. Turns Horror Icons Into Wearable Art
We spoke with Kellie Taylor of emerging collectibles company Creepy Co. about growing enamel pins into a fan favorite.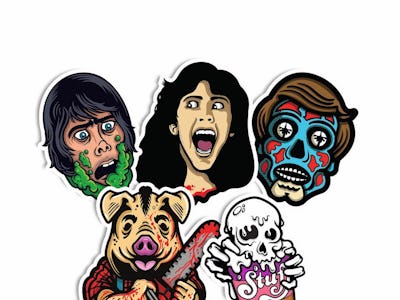 Creepy Co. 
Launched just a year ago, Creepy Co. is a collectibles company with a very specific niche: Enamel pins featuring designs based on some of the most recognizable figures in horror movie history. But that's selling them a little bit short.
Creepy Co. founder and creative director Kellie Taylor strives to push the boundaries of what the mini-fashion art-form has to offer, with quirky innovations like glittering up their They Live pin, making The Fly pin glow in the dark, and creating a lenticular pin from that infamous head explosion in Scanners. Now, the company is scaling up, adding clothing and apparel, and taking the leap into officially licensed merchandise.
We spoke to Taylor about the origins of the company, biting of more than she can chew, and how she owes most of the success of Creepy Co. to Instagram.
How did you start Creepy Co.?
In April 2015, I was working a job that I really didn't like, and on Instagram I noticed there was a community of people who were into enamel pins. I've loved them for a long time, and they seem to enjoy a resurgence every now and then.
I tried making one of my own just as a way to escape the monotony of the job I had then. The Divine pin was the first one. That actually sold extremely well, which was surprising because we didn't have too much of a following at that point. After that, I followed it up with the plastic vampire teeth design that became our logo, the "Chompers."
What is your artistic background?
I worked as a designer for a children's book publisher, and before that I went to grad school at the School of the Art Institute of Chicago. I did that after I got my undergrad degree because the economy wasn't doing so well, but then I was massively in debt so I took on some weird internships before finding the publishing design job before starting Creepy Co.
Did you have plans to sell the pins immediately?
The only product design background I had was through the publishing company, and it helped a bit, but at first I just wanted to make one because it doesn't exist, and then I found out it was relatively easy to sell them if you were motivated enough to do it yourself. In about two month's time I was able to quit my job to do this full time.
What drew you to horror iconography specifically?
It started with the Divine pin, which isn't horror at all. Part of what we're doing with Creepy Co. now is that I don't want us to be just one thing. I want us to be "creepy" in the broadest sense of the word. But, I'm a lifetime horror fan, and I figured why not marry the two. Business-wise, it was a good move to pick a niche and stick within that.
What makes a good pin design?
The best pins are designed as pins because they're small, but people need to recognize them from a distance. You can make a pin of anything, but you have to pair down the image. As Creepy Co. branches out into other categories, the look of things has to change, but horror has memorable iconography and you just have to crystallize that.
How do you choose which designs to make into pins?
It's all about designs I know I can execute, but my personal focus is to try and be innovative on top of that. I try to be the Willy Wonka of pins because we always want to see how far we can push the medium.
Do you have to clear the rights to these designs?
It's strange because we knew that if we started doing this and were semi-successful that bootlegs were a great foot in the door for licensing, and I'm happy to say we have licenses rolling in at an incredible pace.
Some other upcoming officially licensed stuff we have are Vincent Price designs and Creepshow, and more.
Talk a little bit about expanding into clothing.
We've always wanted to grow the brand around other products, so it's just part of scaling up. We got the license for Beistle, the vintage Halloween brand, and we're doing shirts, limited edition prints, pins, and a patch.
Where do you want Creepy Co. to be in the future?
Instagram has been the single most important thing in our growth so far. People ask if we want to be the next Mondo, but no, we don't. We're just trying to exist alongside companies like Mondo in this great niche business of genre collectibles.
This interview has been edited for brevity and clarity.