Brian Eno Uses A.I. for This Spellbinding Short Film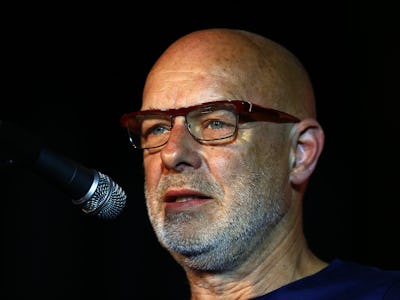 Getty Images / Carl Court
English musician Brian Eno has used artificial intelligence, historical photographs, and his latest album to create The Ship — A Generative Film, a spellbinding 21-minute musical film.
The Ship's film adaptation combines those elements with news tweets to "compose a collective photographic memory of mankind." Eno says on the project's site that it's enabled by a "bespoke artificial intelligence program by the Dentsu Lab Tokyo" and that The Ship — A Generative Film will continually evolve. (Note: You should wait 'til you're on a laptop or desktop to experience the full effect; the site isn't optimized for mobile browsers.)
The Ship — A Generative Film appears to pull relatively recent news tweets — many on the site are Reuters stories from the last week — from Twitter at unknown intervals. The headlines from those tweets are then juxtaposed over images pulled from the Wikimedia Commons and tweets from media organizations like the BBC or the New York Times while Eno's music plays.
"Developed especially for this project, the artificial intelligence programme employs machine learning techniques to interpret its own 'memories' of the past," Eno explains, while simultaneously "associating them with ongoing current events and presenting them in a unique generative film" that anyone can watch.
Here's the 21-minute-long title track from The Ship, which debuted in April:
The film raises questions about artificial intelligence that even the most wary observers might not have considered: What happens when machines are used to filter history, art, and breaking news through their own perspectives?
"The viewer is invited to view this film and begin an internal discussion about how historical meaning is produced," Eno says. "Does the machine intelligence produce a point of view independent of its makers or its viewers? Or are we - human and machine - ultimately co-creating new and unexpected meanings?"
Eno previously worked on creating the chimes a 10,000 Year Clock will make at high noon each day. He's also a well-regarded electronic artist, and he's also the person behind one of the most familiar noises in computing history:
For now, the consensus is that Eno has created a film that successfully raises questions about our future. And that appears to be exactly what Eno was going for, based on the statement he makes about The Ship and its meaning:
Humankind seems to teeter between hubris and paranoia: the hubris of our ever-growing power contrasts with the paranoia that we're permanently and increasingly under threat. At the zenith we realise we have to come down again… we know that we have more than we deserve or can defend, so we become nervous. Somebody, something is going to take it all from us: that is the dread of the wealthy. Paranoia leads to defensiveness, and we all end up in the trenches facing each other across the mud.