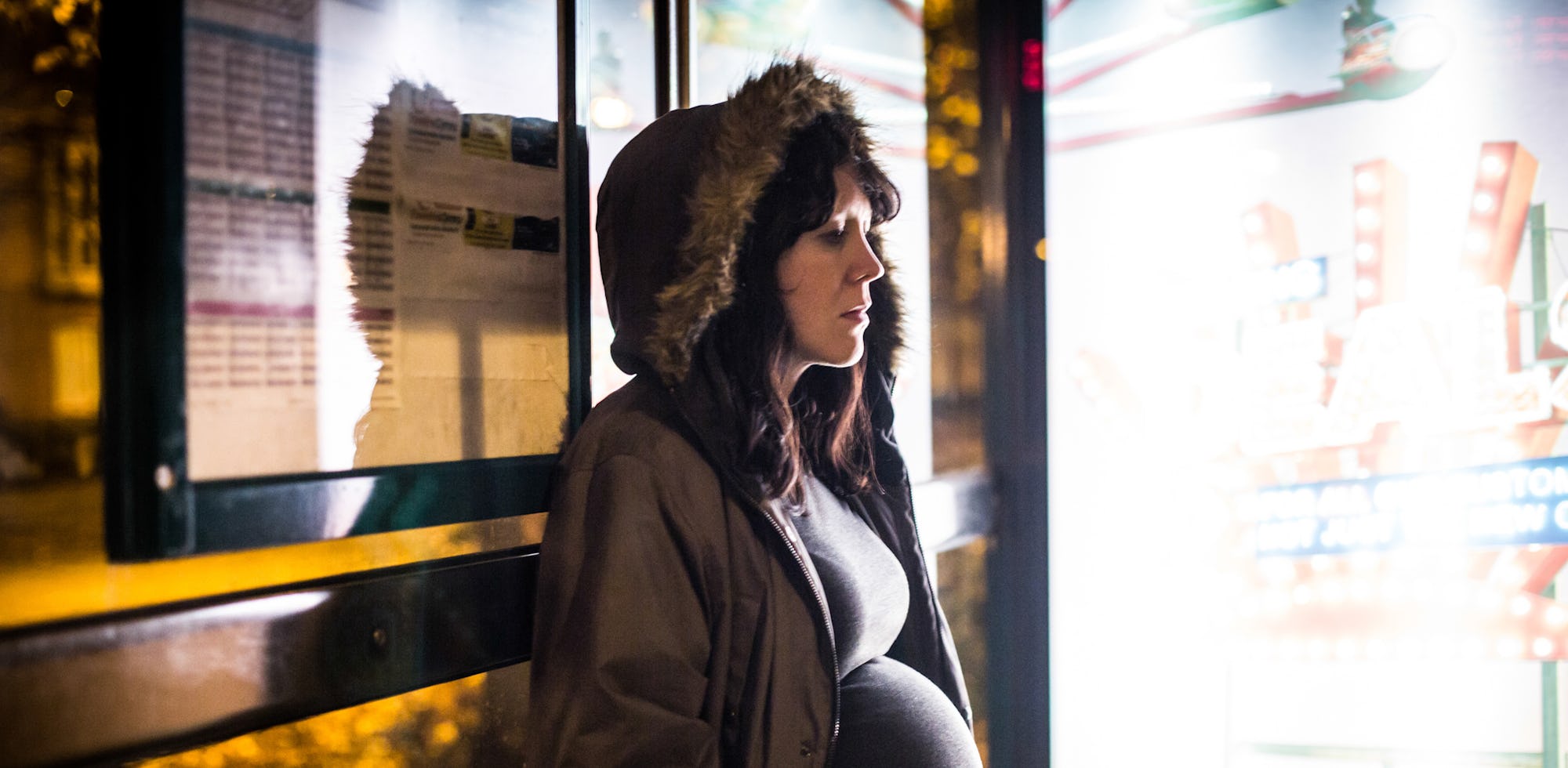 Entertainment
Alice Lowe Murders the Bullshit Pregnancy Industrial Complex
Her directorial debut, 'Prevenge,' takes a knife to conventional motherhood narratives.
Alice Lowe's eight-month-old daughter sat contentedly on her mother's lap, playing with a toy and smiling at all the stimuli the Toronto Hilton's lobby had to offer. As Lowe discussed her film Prevenge, Della Moon babbled adorable infant gibberish. To an outsider, it was a precious scene, but given the role that Della Moon played in Lowe's debut feature, I couldn't help but wonder if she'd surreptitiously told her mother to slice my throat.
Lowe wrote, directed, and stars in Prevenge, a jet black British comedy about a pregnant woman named Ruth who thinks her unborn child is telling her to brutally murder people involved in her partner's tragic death. It's a bold and strangely empowering story, one made even more compelling by the real-world circumstances under which it was produced.
Known for her role in Ben Wheatley's bloody class satire Sightseers and for an entire decade of British TV comedies, Lowe had always wanted to write and direct a feature film. She just never expected that the opportunity to do so would arrive halfway through her first pregnancy. The rare offer of access to full pre-financing, extended by her Black Mountain Poets director Jamie Adams, provided Lowe a real gut/uterus check.
"I was really just like, 'I'm either going to have a director career and not have a family, or have a kid and never get to direct,' because you need to get your edgy, crazy first feature under your belt," Lowe, 39, told Inverse over the weekend. "I couldn't see myself doing that in my fifties. I was just like, 'I've got to get this crazy debut under my belt. If that doesn't happen then it's probably not going to happen for me.' So I said, 'I should just do this opportunity. Let's just do it.'"
Lowe wrote a 70-page script in a single week, using her pregnancy as inspiration. She and a small crew began filming Prevenge when she was seven-and-a-half months pregnant — the significant baby bump her murderous character sports in the movie is very, very real.
"Not every pregnant woman will feel like this, but I had loads of energy," Lowe says. "And I also felt like this weird lack of fear. It was a bit like, 'Well, look I'm about to give birth so nothing's going to be worse than that. I'm going to see loads of blood and I don't know what's going to happen to my body. The embarrassment goes as well, because that's the experience of pregnancy. Once you're giving birth, you're like, 'I don't care who's walking in the room and looking up my fanny. I don't care.'"
Shot in just 11 days spanning three weeks, the movie was an experiment in controlled chaos. The crew trekked across the north of England and into Wales, following Ruth's increasingly bloody trail of revenge. The character is not a classic serial killer, but she clearly enjoys the act of slicing her victims' throats; the opening scene, in which she seduces a horny petshop owner and then cuts his jugular, is almost gleeful. The film is both edgy and classically British, finding the humor in the darkest places.
Determined to inject a large dose of spontaneity and push boundaries, Lowe urged her small crew to embrace the unknown. One claustrophobic scene, which sees her riding in the back of a taxi with a classless pub DJ (Tom Davis), reflects the realities of its production: Lowe, Davis, and their skeleton crew rolled the dice by hailing an actual cab and just shoving into the backseat with their gear. As the meter ran, Lowe convinced Davis to take things next-level.
"So I'm going, 'Right, now you're going to have to snog me,' and I'm a pregnant woman. And he's just going, 'This is probably one of the weirdest things I've ever done,'" Lowe recalls. "He's being asked to romance a pregnant lady who's genuinely pregnant. I could tell that [the crew] were like, 'Oh, is that okay to do that?' And I'm like, 'Fuck it. Just do it. I don't care.'"
Another sequence later in the movie was an even bigger dice roll. Verging on eight months pregnant, Lowe brought the crew to Cardiff for Halloween. She wanted to inject herself into the alcohol-drenched madness of the dreary Welsh town's holiday celebration. That she went in character, with a terrifying skull painted on her face, only made the situation dicier.
"I had no idea how extreme it was going to be," she admits, laughing. "There were actually grown men squaring up to me for a fight, almost like they were like 'You think you're scary because you've got that makeup on and you've got a knife in your hand.'"
Lowe was living the research for the film, and it's in the quiet moments that some of the most absurd and pointed satire emerges. At one point Ruth tries to pause her killing spree for a pre-natal yoga class, and it's the peaceful, encouraging and safe space of the studio that provides the comedy — and one of the sharper messages Lowe was working to convey.
"There's this kind of whole industry built upon babies and a whole fetishizing of how wonderful it is to have a child — but it's not that wonderful, is it?" she asks, quite rhetorically. "It's really quite scary and terrifying, bringing a child into this society that's dangerous. There's so much language around it to make you not too scared of having kids, which just drove me mad; like going to yoga classes and the way that everybody talks in this really gentle way. 'Let's just not scare you about anything.' No one's being honest here at all. No one's actually saying what they're scared of. It's like we've all been lobotomized by being pregnant."
The brutality of Prevenge isn't so much for the sheer shock value. Lowe wanted to attack that pregnancy industrial complex — and the hypocritical ways pregnant women are treated — in the most vicious manner possible. Ruth kills the woman who denies her a job because of her "condition," while also rejecting the traditional cooing over her bump (she's after revenge and is only more mad when the people who let her husband die are being so kind to her).
While there is a voice urging violence throughout, Prevenge makes clear that it is not a woman-possessed story, that the truth behind Ruth's killing spree is far more messy and human. Lowe sought to give the female anti-hero agency, to portray a woman making her own choices, no matter how bloody.
"What I wanted people to take away from it is that I don't think, personally, that pregnancy does change you," she says. "And that is the perception, that pregnancy turns you into a completely different person, like a Stepford Wife. And that was what was scaring me about it. But actually having had a baby now, I feel like it doesn't change you. It's just a different perspective that you have, but as the same person that you always were."
Now Lowe, with that crazy first feature under her belt, is touring the world with the film while planning out her next movie. Della Moon — one terrifying role under her belt (she also cameos as Ruth's baby at the end) — is along for the ride, accumulating stamps on her passport and watching her mother slay.