The Little Girl in the 'Ouija 2' Trailer is Creepy AF
This sequel to a movie based on a board game features some serious horror talent, and looks surprisingly great.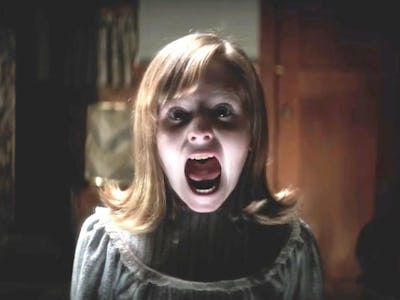 YouTube
Getting excited for the sequel to a movie about a board game might make you seriously question your movie-going habits, but the new trailer for Ouija: Origin of Evil should calm your fears about that and but you whole new ones. It's creepy AF.
Directed by Mike Flanagan — whose recent home invasion thriller Hush was a highlight at this year's SXSW and is streaming on Netflix — Ouija: Origin of Evil is a prequel to the first Ouija movie, and is set in 1967 Los Angeles. It chronicles a fortune teller named Alice Zander (Elizabeth Reaser) who swindles unsuspecting clients during seances with the help of her two young daughters. But the scam soon comes to an end when their Ouija-ing attracts an unwanted evil spirit into their home that possesses the youngest daughter, Doris, played by Lulu Wilson.
The original Ouija movie was released in 2014 by horror production company Blumhouse. The original movie capitalized on a miniscule budget for some serious box office returns, while critics held less than enthusiasm for the tale of happens when teens work a Ouija: it currently has a seven percent on Rotten Tomatoes.
Maybe that's why Blumhouse went mercifully back to the drawing board and recruited the promising Flanagan for a follow-up.
Released on Thursday, this trailer offers some wonderfully spooky throwback vibes reminiscent of The Conjuring, all set to "Time of the Season" by The Zombies.
The most effective scares come from the possessed little Doris, who unmistakably brings to mind Linda Blair's possessed little girl in the horror classic The Exorcist. Shout-out to actor Henry Thomas, forever known as Elliott from E.T., who pops up in the Ouija sequel as the skeptical priest, which itself is another riff on The Exorcist.
Here's hoping the trailer doesn't give too much away. Watch:
Ouija: Origin of Evil hits theaters just in time for Halloween on October 21.