Two Horror Experts Are Leading Fans Down a Bloody Path
We talk to Shudder curators about molding their niche streaming site and making horror movies matter.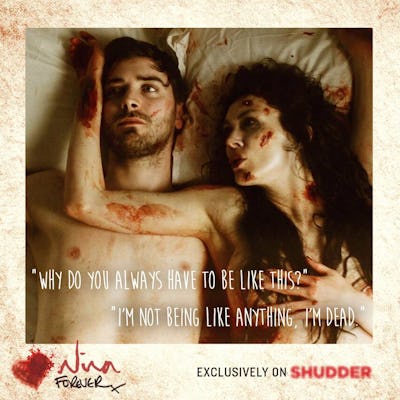 Facebook / shudder
The "Giallo" exploitation flicks that oozed out of Italy in the mid-'60s and '70s blurred the lines between spectacle, pornography, mass entertainment, and blasphemy – while giving young filmmakers a sense of the possibilities that were beyond good taste. These films paved the way for the slasher films of the 1980s and the jump-scare marathons hacking apart megaplexes today. But most people don't generally throw on a Mario Bava or Lucio Fulci movie, or listen to Ennio Morricone's sexier soundtracks.
Colin Geddes and Sam Zimmerman do. The two men, who work as curators for AMC's horror streaming service Shudder, don't just enjoy horror movies. They are invested in the history of the genre and fans of individual filmmakers in a way that most of the people lining up for The Conjuring 2 probably aren't. As Blumhouse Productions (Sinister, The Purge) makes quick and monstrous returns on minimal investments, Geddes and Zimmerman spend their time thinking about the horror movies that mattered. And, yes, there are plenty. Their job — as they see it — is to provide an answer to a practical question that has long plagued horror lovers: Where do you find the good shit?
"We're trying to go and get those films that someone told you about and you've never been able to find," Zimmerman says. "Shudder should be a resource for people who want to get into sub-genres…. Why not become the place for people to learn about and see these movies that aren't available?
To Zimmerman and Geddes, the point isn't that Four Flies on Grey Velvet is haunting as hell, but that the film inspired newer, stranger stuff like The Strange Color of Your Body's Tears. They see the the evolution of a genre and they want others to see it, too. And that's a hard thing, because finding horror flicks online is difficult even in the age of streaming services.
Netflix doesn't do niche horror. The horror section on the site includes some good films like The Babadook, but it also includes Scary Movie 3. This is a signpost for the path to fandom, but it's not what lies at the end. There is no greater knowledge to be had here. And good luck finding proto-zombie flicks at your local video store — if it still exists.
"A lot of other services that buy horror films look down on them, or they're buying them as content with no quality check at all," Geddes said. "We don't pick movies just because they have zombies, or are found footage movies, or they have eye catching art that has nothing to do with the actual film."
What's perhaps singular about Shudder is that it's an exercise in taste. Geddes and Zimmerman choose movies carefully from a library of films that exist largely in their own heads and the back rooms of old production houses, some of them in a filmmaker's own basement. This forces them to be creative, to "float in a nebulous cauldron of what's labelled as 'horror' " as Geddes puts it. It also forces them to be creative about sourcing. They welcome the challenge.
Its the search for the unavailable that drew Geddes to comic books, science fiction and horror films — the "dark, different, and strange" — while growing up in Canada. "We only had like three stations on a clear night on a black and white TV," he laughs. "When you caught an old horror film it was rare and special, and I spent a lot more time reading about horror films than seeing them."
That curiosity propelled Geddes into a gig as a film programmer for the Toronto International Film Festival. He brought the scares to the prestigious festival for two decades before joining Shudder in 2015.
"I've developed a reputation as a guy who knows horror films," he says. "I've been able to take claim for introducing the world to horror filmmakers like Eli Roth, Alex Aja, Adam Wingard, and Shudder was looking for someone who held their own in the horror field and knew the difference between good and bad.
For his part, Zimmerman went the film school route before working at vaunted fright mag Fangoria and fan-favorite horror site Shock Till You Drop. "At home we had unauthorized access to cable, and for some reason it was also in my room," he told me. "That's where I watched Castle Freak and Wes Craven's New Nightmare, and not long after that my dad showed me American Werewolf in London."
Geddes wants to offer subscribers a similar, albeit more thorough, education. And he hopes to convince consumers of horror to become knowledgeable fans.
"When you talk to someone who might not consider themselves a horror fan and say, 'Did you go see The Conjuring? Do you watch The Walking Dead every week?' Oftentimes the answer is yes," Zimmerman told me. "Horror ebbs and flows, but right now we're in a position where things like that are huge, and people are hungry for more than what they're seeing in wide releases and want to find out what else is out there."
Being the de facto spokespeople for a genre is a high pressure job and that isn't lost on either man. Both say they enjoy their work, but that it has changed them. It's a idea that isn't lost on the two of them, even when it's sometimes difficult to separate turning something they love into a career. "When your hobby becomes your job, you find another hobby," Geddes jokes. "I totally enjoy horror films, but that's not all I enjoy. I have other movies that keep me balanced."