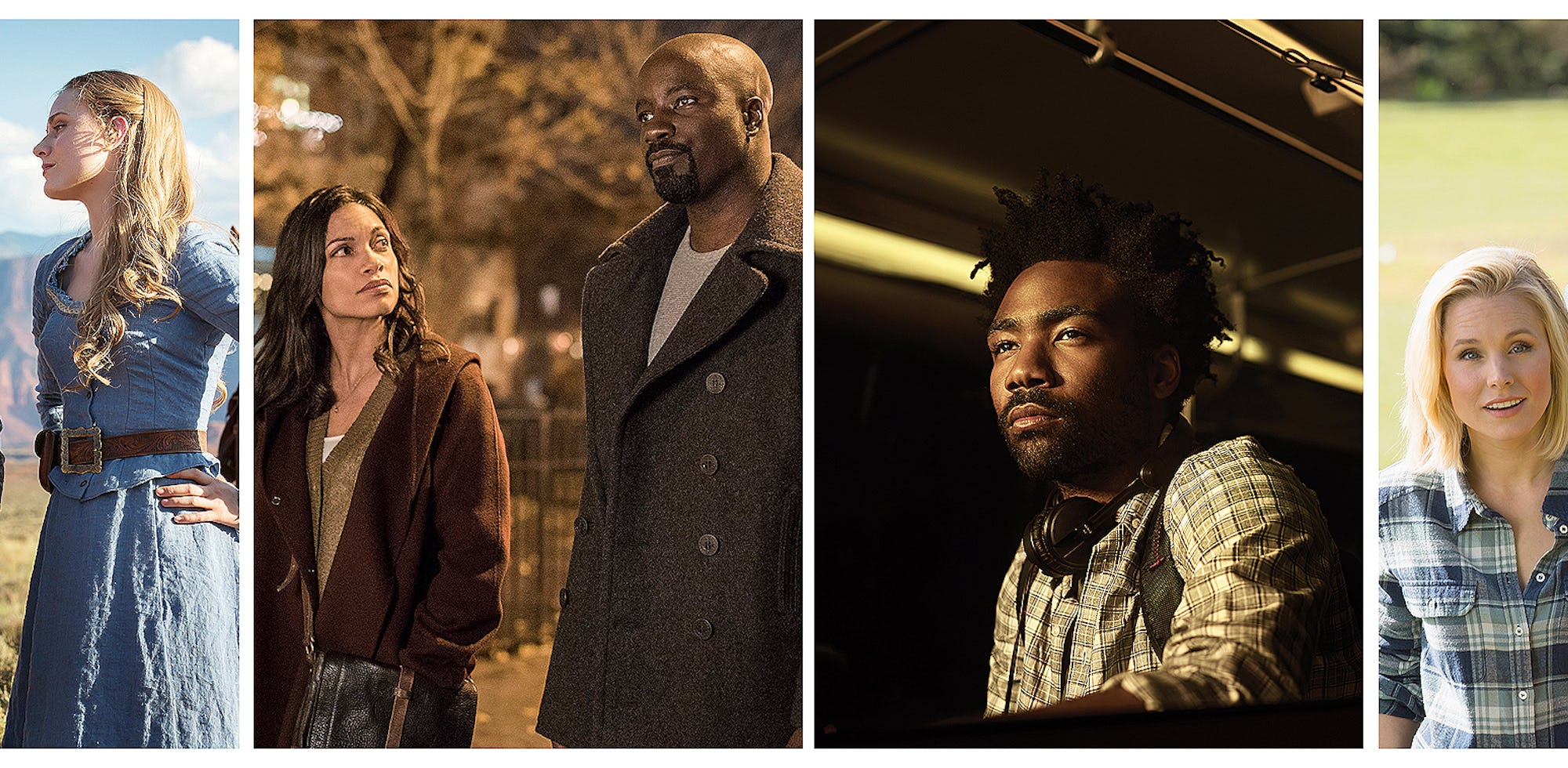 Entertainment
Here's Your Fall 2016 Must-Watch TV Schedule
The shows you should watch from robotic theme parks to animated office workers to Atlanta hip-hop.
Inverse
An unbelievable amount of television airs year round, but September remains ambition season for old-school and streaming networks alike. Trying to sift through all those premieres can be downright daunting. Next week, the 2016-17 television season will kick into gear by airing both new and returning series every day. To help you decide on what to watch, here's a week-to-week guide of the debuts that you absolutely can't miss, the notable newcomers to keep an eye on, and returning dates for some old favorites.
September 4 — September 10
Your Must Watch: Atlanta
It feels like Atlanta has been in the works forever. The series first landed at FX for development back in 2013. And maybe it's a good thing that Donald Glover took his time: the result is perhaps the best comedy pilot of the fall season.
For Atlanta, Glover took on multiple roles: star, creator, writer, executive producer, director, and executive music producer. Within the series, Glover plays Earnest "Earn" Marks, an aspiring rap manager with a talented cousin. Atlanta is very much a product of the city itself; the setting informs everything. The same is true for hip-hop, which isn't just a tossed-in gimmick but an element that propels the narrative. Atlanta is full of interesting elements that add to the overall feel of the series, whether it's Glover's refreshing approach to race (it helps that his entire writing staff is black) or visual choices (Atlanta will make Hiro Murai a director to watch) or just straight-up comedy (there is subtle, low-key humor and bigger, elaborate laughs). FX/FXX has made a name for itself with unique, dramatic comedies (You're The Worst, Louie) and Atlanta belongs in that company. To really boost this season, Atlanta will premiere with two back-to-back episodes on September 6.
Other Premieres to Check Out this Week:
Better Things (FX) — Thursday, September 8: Pamela Adlon (Louie) is creator, star, writer, director, and executive producer of Better Things, a vaguely autobiographical sitcom that follows Sam (Adlon) as a working mother of three. Navigating work/life balance isn't too original but Adlon's bite and sharp writing skills help Better Things stand out.
Mary + Jane (MTV) Monday, September 5: MTV is quickly cashing in on the weed-on-tv trend with Mary + Jane, a comedy that follows two young women as they sell weed in Los Angeles. It's a clear hybrid of Broad City and High Maintenance and though it may not be as good as either, it's worth checking out in the interim. (Bonus: It's produced by Snoop Dogg.)
Returning Series of Note:
From Dusk 'Till Dawn: The Series (El Rey) September 6
Lucha Underground (El Rey) — September 7
Gaycation (Viceland) — September 7
Week of September 11 September 17
Your Must Watch: Son of Zorn
It's always a good sign when Phil Lord and Christopher Miller are a show's executive producers. Son of Zorn is the latest weird little comedy to pop up on Fox Sunday nights — it's a good match for Lord & Miller's Last Man on Earth — which hails from Reed Agnew and Eli Jorne (Wilfred) and is one of the strangest premieres of the TV season.
Son of Zorn is a fish-out-of-water story that throws an animated character (voiced by Jason Sudeikis) into a real-life world. Not only is Zorn the only animated character in the suburb, he's also a He-Man-like warrior from the land of Zephyria who doesn't exactly understand the social norms of California cul-de-sacs. What's more is he's trying to reconnect with his sensitive teenage son and his ex-wife, who has since moved on to a new man (he's played by Tim Meadows and might be the best part of the series). Son of Zorn is very silly on the surface — and who doesn't love a silly comedy? — but based on the pilot episode, it also has the potential to become a clever send-up of macho masculinity. (After its sneak premiere on September 11, the series will begin in earnest on September 25.)
Other Premieres to Check Out this Week:
High Maintenance (HBO) — Friday, September 16: The acclaimed and addictive web series about a weed dealer will premiere six new episodes on HBO. What makes High Maintenance such an endearing show is that it eschews weed-hijinks to instead focus on the odd people that we meet along the way.
Returning Series of Note:
Masters of Sex (Showtime) — Sunday, September 11
American Horror Story (FX) — Wednesday, September 14
Blindspot (NBC) — Wednesday, September 14
Documentary Now! (IFC) Wednesday, September 14
September 18 — September 24
Your Must Watch: The Good Place
Mike Schur's track record (writer on The Office, creator of Parks and Recreation and Brooklyn Nine-Nine) is reason enough to check out NBC's new sitcom The Good Place. If you need a second reason, it also finds Kristen Bell back at home in a sweet but snarky lead role on a broadcast series.
The Good Place is a hard sell: it's a comedy about the afterlife. How you picture the afterlife (or don't) varies drastically from person to person, making shows that have even vaguely religious connections hard to catch on. This series deftly navigates this issue by creating a sort of amalgamation of different beliefs, all resulting in "the good place," which is where people go if they are deemed good through a set of highly precise mathematical calculations. It's funnier than it sounds! The kicker is that Eleanor (Bell) ends up in the good place through a mistake — we see her true nature in flashbacks of her on Earth — and her presence there begins to have some weird effects on the community. Although the series will launch with back-to-back episodes on Monday, it'll settle into its Thursday timeslot beginning September 22.
Other Premieres to Check Out this Week:
Designated Survivor (ABC) Wednesday, September 21: If you missed Kiefer Sutherland running around being Kiefer Sutherland then Designated Survivor is sure to fill the 24-sized hole in your heart. Sutherland stars as a Secretary of Housing and Urban Development who suddenly becomes POTUS after a terrorist attack.
Lethal Weapon (Fox) Wednesday, September 21: Every television season gets the hate-watch that it deserves and this year, its Fox's film-to-television adaptation of Lethal Weapon that, of course, is produced by McG.
The Exorcist (Fox) — Friday, September 23: Actually, Fox has blessed us with two hate-watchable adaptations in one week! Geena Davis and Alan Ruck star in this fun little romp about demonic possession.
Returning Series of Note:
Gotham (Fox) — Monday, September 19
Brooklyn Nine-Nine (Fox) — Tuesday, September 20
Marvel's Agents of S.H.I.E.L.D. (ABC) Tuesday, September 20
Empire (Fox) Wednesday, September 21
September 25 — October 1
Your Must Watch: Luke Cage
Was there any ever doubt that Luke Cage would be the must-watch pick of the week? It's probably the must-watch pick of the entire television season, and not just because of how great Netflix's Daredevil and Jessica Jones were.
The highly-anticipated third installment in Netflix's Marvel Universe, which, of course, debuts on Friday, follows Luke Cage (Mike Colter) as he protects the streets of Harlem. Like Netflix's similar offerings, Luke Cage is a superhero narrative that focuses on his humanity, on character-building, and on continuing to create a gritty, thrilling world that you can throw yourself into for 12 episodes at a time. But don't expect Luke Cage to be a carbon copy of the the other Marvel series — sure, it'll borrow the brilliant action sequences from Daredevil and the dark, twisted noir elements from Jessica Jones — but Luke Cage will find its own way by incorporating hip-hop, putting an increased emphasis on the Harlem setting, and exploring race and the black experience within a superhero world.
Other Premieres to Check Out this Week:
Channel Zero (Syfy) — Tuesday, September 27: Syfy's continued efforts to keep rebranding itself and finding a series that sticks expands to this television season with two intriguing premieres. The first is Channel Zero, an anthology series (every network has to have one!) that takes on the "creepypasta" story of Candle Cove.
Aftermath (Syfy) — Tuesday, September 27: The second is Aftermath, a post-apocalyptic thriller about a family trying to survive the end of civilization as they deal with meteor strikes, plagues, supernatural elements, and more.
Returning Series of Note:
The Last Man on Earth (Fox) — Sunday, September 25
Bob's Burgers (Fox) — Sunday, September 25
The Simpsons (Fox) Sunday, September 25
Drunk History (Comedy Central) — Tuesday, September 27
October 2 — October 8
Your Must Watch: Westworld
Is Westworld the most anticipated show of the fall season? The series has spent an eternity in production hell, which has increased the hype, and the idea that it could eventually become "The Next Game of Thrones" only cements its early spot as must-watch television this fall.
Adapted from Michael Crichton's 1973 film of the same name, Westworld combines multiple genres — science fiction, western, thriller — to create a futuristic, robotic theme park. As everyone knows, however, you can't have robots without a good ol' fashioned robot uprising and that's certainly on the horizon in Westworld. There is no doubt that Westworld, with its inventive visuals and mixed-genre fun, will be a massive hit on HBO — and you're going to want to make sure that you're there from the beginning.
Other Premieres to Check Out this Week:
Timeless (NBC) — Monday, October 3: Eric Kripke (Supernatural) and Shawn Ryan (The Shield) co-created this time-traveling drama about a criminal who steals a time machine in order to change history and basically destroy the world. Naturally, there are rival time travelers (a history professor, scientist, and a soldier) who are tasked with stopping him.
Returning Series of Note:
Ash vs. Evil Dead (Starz) — October 2
Shameless (Showtime) — October 2
The Flash (The CW) — October 4
Arrow (The CW) — October 5