How to Stream Gene Wilder Movies Right Now
The beloved comedic actors passed away from complications due to Alzheimer's Disease at 83.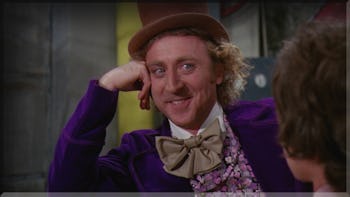 YouTube
Comedy legend Gene Wilder has died at the age of 83.
According to this statement released by his family, Wilder died surrounded by his loved ones at his home in Stamford, Connecticut, due to complications from Alzheimer's Disease, which he suffered from for the last three years.
It's sad, plain and simple, especially because Wilders most iconic roles perfectly blended a winking sense of sweetness and heart along with his unique brand of hilariously absurd slapstick fun. But in a time when it's so easy to get a depressed at news like this, the best possible thing to do is to take the advice of Wilder's own family. In their statement, they also mentioned that Wilder "simply couldn't bear the idea of one less smile in the world.
In that case, the way to honor one of the funniest actors who ever lived would be to remember how many smiles he caused in his best on-screen roles.
Here's where you can stream all of Gene Wilder's best movies.
Bonnie and Clyde
Wilder's first feature film role was in director Arthur Penn's New Hollywood classic in a minor but memorable role as one of the titular outlaw couple's hostages. The neurotic kidnapped undertaker Eugene Grizzard would foreshadow the distinctive personality Wilder cultivated on-screen for more than three decades.
The Producers
The actor's next role would solidify his legendary status, but also gain him a lifelong collaborator and friend. In Mel Brooks's The Producers, Wilder played an accountant named Leopold Bloom who is lured into a fraud scheme by bankrolling a Broadway show called Springtime for Hitler intentionally meant to bomb that turns out to be a hit. It garnered Wilder an Oscar nomination for best supporting actor.
Willy Wonka and the Chocolate Factory
In perhaps his most beloved role, where he gave such lines as "We are the music makers, and we are the dreamers of dreams" a gorgeous sentimentality, Wilder is author Roald Dahl's Willy Wonka, the mischievous candymaker who brings a group of equally mischievous kids on a tour of his magical factory.
Blazing Saddles
Wilder teamed up with Brooks again in two comedies: the western spoof Blazing Saddles and the monster movie satire Young Frankenstein. Saddles has gone down as among the funniest movies ever made, and is readily available to rent. Weirdly enough, Young Frankenstein is nowhere to be found to (legally) stream anywhere. You can buy it on Amazon or watch it on TCM as the classic movie channel remembers Wilder with a marathon of his films.
Silver Streak
The other main collaboration of Wilder's career was with comedian Richard Pryor. For his performance in the intentionally inappropriate Silver Streak, a comedy about a cross-country train ride, Wilder recieved a Golden Globe nomination for Best Actor - Motion Picture Musical or Comedy.
Stir Crazy
Wilder and Pryor teamed up again for Stir Crazy, about two men framed for robbery who have to adjust to life in prison. It was a massive hit for a comedy even now, earning over $100 million at the box office when it was released in 1980.
The Woman in Red
Wilder met his third wife, Saturday Night Live's Gilda Radner, in 1982, and she'd later co-star in The Woman in Red, a romantic comedy starring Wilder as an ad executive who attempts to have an affair with a beautiful woman he sees at work.
Where to rent: iTunes or Amazon
Over on Hulu, you should watch Merv Griffin interview Wilder.
And if you have cable, TCM is hosting something of a Wilder marathon on Thursday, showing Role Model: Gene Wilder, Young Frankenstein, Role Model: Gene Wilder, (again), Start the Revolution Without Me, The Frisco Kid, and closing with, at 4:30 a.m. Friday morning, Bonnie and Clyde.