Ewan McGregor Burns it Up as 'Beauty and the Beast' Candle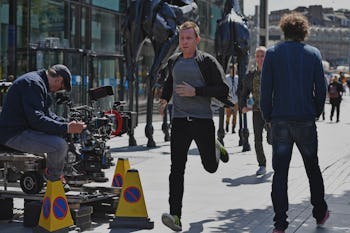 Getty Images / Jeff J Mitchell
Next year's live-action Beauty and Beast film may never replace the shared cultural memory of Jean Cocteau's 1934 masterpiece or Disney's 1991 animated classic, but it will have Ewan McGregor playing the talking-candle, Lumière.
Today, Disney released the first image of McGregor's character alongside the stout, cantankerous sentient-clock Cogsworth, voiced by Sir Ian McKellan. Though they look pretty slick, producer Jack Morrissey made it clear that this was actually just the concept art for the characters and the designs "may not be final."
Starring Emma Watson as Belle, this live-action musical will most likely follow the plot of the 1991 animated film more than any other version. This means Ewan McGregor will be donning a French accent to sing everyone's favorite inanimate-object-dancing hit, "Be Our Guest." The Scottish actor has pulled off a southern drawl for Big Fish, a middle-American accent for Black Hawk Down and an Alec Guinness impression for the Star Wars prequels, so it's a safe bet he's going to nail Lumière. Check out Lumière and Cogsworth's design below.
We're not worried about Cogsworth, of course, because he's being played by Sir Ian McKellan.
The dude is a knight and also played Gandalf, so we're completely sure he's up to the task of playing a clock. Still, only time will tell.
Beauty and the Beast opens on March 17, 2017.