Tesla's Secret Wifi Hotspot Chip Could End Dull Car Journeys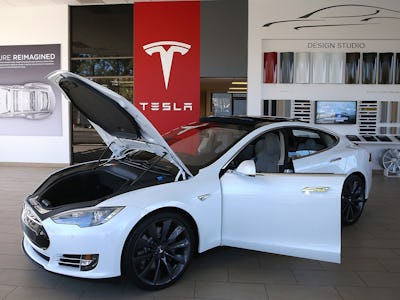 Getty Images / Justin Sullivan
Tesla cars already have a biohazard defense mode, but what use is surviving a biological attack if you can't use the internet? Fortunately, Elon Musk and Tesla are on it. A new report suggests the electric car maker is planning an update for its fleet that would give Tesla cars wifi hotspot capabilities.
According to Electrek, inside sources say the automaker wants to bring the new feature to the Model S and Model X. Tesla has filed an FCC application for a new Qualcomm Atheros QCA6234 Bluetooth and wifi chip, intended for use in cars from the first quarter of 2016. That could mean recent Model S purchases contain the chip, with Tesla only having to flick a software update switch once it's ready.
Having a Tesla that doubles up as a wifi hotspot would transform the long car journey. Currently, bored passengers have to use individual cellular data plans, set up a tethering hotspot, or (gasp) talk to each other to pass the time. An in-car hotspot would save both battery and data bills, the latter of which may become a concern as Tesla's cars reach the end of their four years of free cellular access. Once that deadline hits, Musk's firm may want to sell drivers an in-car payment plan, a pill that would be less bitter to swallow if it could also connect other devices.
It wouldn't be the first time Tesla has switched on a new feature in already-shipped cars. The company's autopilot feature, which acts like the autopilot in a plane, launched as a software update.
Other updates suggest Tesla wouldn't be averse to charging extra to flip the wifi switch on. Back in May, the company rolled out a $3,000 update to Model S owners that upgraded their 70kWh battery to 75kWh. The car shipped with the larger battery, and Tesla's pricey update switched on the added capacity.