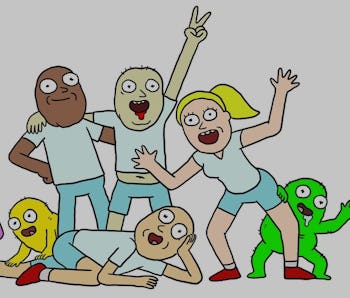 Gaming
'Rick And Morty's Justin Roiland Announces Squanchtendo VR
Hungry for virtual reality gaming from Justin Roiland? Hungry for apples?
Justin Roiland and Dan Harmon, the co-creators of Rick and Morty, have been noodling around on separate projects this year, waiting for season 3 to drop. Roiland's newest project, a virtual reality game development studio called Squanchtendo was announced today via a comic so steeped in his humor that you can practically hear Little Splzooshly's voice screaming "GTFO" and "IDGAF" at you.
Before we get to Little Splzooshly, though, let's talk VR. Roiland may have fell in love with virtual reality while voicing Job Simulator, a game meant to mock the drudgery of nine to fives. A lot of the material in Rick and Morty, including the fictional game "Roy" at Blips and Chitz, tools around with concepts of virtual reality, but of course, Squantendo will be Roiland's first attempt — in the meatspace — to create work in the medium.
Squanchtendo Games is currently hiring, and its Twitter account is only a day old, but Roiland seems like a natural fit for a virtual reality project. He's joined by Tanya Watson, a developer formerly from Epic Games, who worked on Gears of War.
Of course, this isn't Rick and Morty's first cross-section foray into virtual reality, as the VR game Virtual Rick-ality was announced last month.
Rick and Morty was also adapted into Pocket Mortys, the Pokémon-inspired game from Adult Swim that preceded Pokmon Go. While ancillary, Rick and Morty-inspired projects are all well and good, including Roiland's vocal performance at San Diego Comic Con, fans are simply biding their time with these projects until the show returns.