The Chase for Chance the Rapper is a 'Dick-Swinging Contest'
He's got the juice, he's got the juice.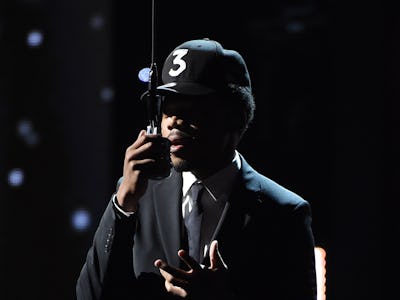 Getty Images / Kevin Winter
In its profile of Chance the Rapper, the young, Chicago-repping artist was described by GQ as the leader "of a new generation of Internet-savvy kids who think of Jay-Z as a failed tech entrepreneur." The air gap between young and old isn't lost on the 23-year-old artist born Chancelor Bennett, who has aggressively been not-signed for years, in spite of "nearly every major label chasing him," as Billboard noted in 2013.
Chance just doesn't need a record label and he proved that it's more than possible to create a music career simply on the internet — and the practice of artists churning albums through the music-industrial complex is fading fast.
The chase for Chance is getting tired, he told GQ's Zach Baron.
Just in terms of, like, those guys being able to say that they got me. That's what they want to do. It's like a fucking dick-swinging contest, where they all just brag about who they recently got. And so I'm definitely not trying to be a part of their dick-swinging contest. I'm staying far away from all dick-swinging.
Dick-swinging!
Look, Chance makes his money from concerts and merch and his critically acclaimed 14-track Coloring Book, released earlier this summer, went up for free on his website. The music industry has a long history of sucking money out of its artists. Chance is keeping ownership of his music and is living proof of the power of the internet.
Stay strong, Chance!