J.K. Rowling Redefines 'Harry Potter' with New Sketches 
The  celebrated author illustrates her own versions of her famous characters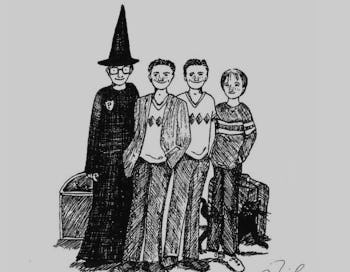 Pottermore
J.K. Rowling's writing gave life to the world of Harry Potter, but until now, we had never seen what the characters looked like in the author's own head.
The author —and rabid field hockey fan— recently sprinkled her website, Pottermore, with new hand-drawn illustrations of various characters and situations. All the illustrations appear to be recent, and clearly signed by Rowling. You've got Harry gazing into the hypnotic Mirror of Erised, Snape gruffly teaching potions class, a Weasley family portrait, and more. Rowling's rendering of her world-famous characters comes across as somehow straightforward and whimsical – as though the ghost of Shel Silverstein collaborated with her to create them.
How you picture Harry Potter, Hermione Granger, Ron Weasley, Professor Snape, Dumbledore, and countless other wizards and muggles has probably been shaped by a variety of media. Before the characters were immortalized in the eight feature films, the American versions of the books featured lush illustrations from artist Mary GrandPré. And even though GrandPré's Snape sported a dastardly mustache, her contributions to the visualization of Potter can't be understated; even the the iconic lighting-bolt font was her idea.
In addition to GrandPré's version, there are several other editions of Harry Potter books with different illustrations including (but not limited to) Jim Kay, Kazu Kibuishi, Jonny Duddle, and Andrew Davidson. All of these artists used J.K. Rowling's text as a guide, which is part of what makes her new sketches so delightful.
In the past, Rowling has offered her own Harry Potter sketches, but this current crop is the most fun. Best feature? Easily the preponderance of old-school witch hats.