This Orangutan's Jazz Single Puts Frank Ocean's 'Endless' to Shame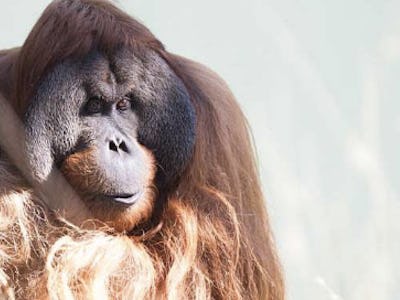 Adelaide Zoo
Move over, Frank Ocean: A new jazz single, composed and performed entirely by a Sumatran orangutan known as Kluet, might actually be the summer's most important musical release.
The freewheeling, 35-second jazz ditty, titled "Give Me a Klue," was released by Australia's Adelaide Zoo to commemorate World Orangutan Day, the annual celebration of our swaggy, russet-haired kin. The track, replete with playful piano runs and sparse, suspenseful drumming, was recorded and produced by Kluet's keeper, Pij Olijnyk, using GarageBand. Speaking on behalf of his 20-year-old virtuoso, Olijnyk described the final piece as "modern jazz" in an interview with Australia's ABC News.
"Kluet in particular is very playful and cheeky, very inquisitive, loves to try new things," Olijnyk told reporters.
"I can hear a bit of Pink Panther theme and I think there's a bit of The Way You Look Tonight as well," he told reporters.
Has Kluet earned the nickname of Thelonious Monkey? Within seconds of listening to "Give Me a Klue," it's obvious the Adelaide Zoo has reared a musical genius. The song opens with an assertive rap on the toms, followed by a flirtatious trill on the piano. "Are you listening?," Kluet seems to ask, prolonging a moment of silence for dramatic effect.
Suddenly, he bombards listeners with a zigzagging, Korsakov-inspired cascade of crashing notes, as if to say, "This joint will leave you cross-eyed." Kluet, without a doubt, has mastered jazz music's mischievous game of give and take.
Kluet's virtuosity may be uniquely dizzying, but he doesn't fail to acknowledge his forebears. His piano riffs nod to the playful Henry Mancini classic Pink Panther theme and, as Olijnik points out, the 1936 Fred Astaire standard "The Way You Look Tonight.." The piece ends, enigmatically, with an arcing cliffhanger of notes interspersed with three perfunctory thumps on a drum. Will there be a sequel? Jazz fans can only hope.
It's unlikely this will be Kluet's last encounter with virtual instruments. In his interview with ABC Australia, Olijnyk has stated that he often uses modern technology, like phones and tablets, to keep his animals entertained. He hopes that his experience recording with Kluet will bring attention to the plight of wild Sumatran orangutans, which are critically endangered because their habitat is rapidly disappearing.
Unlike Frank Ocean's Endless, "Give Me a Klue" does not have to be purchased on Apple Music. The single has been released on a pay-what-you-like model on the Adelaide Zoo's website, where proceeds will go toward supporting Kluet and his two Sumatran orangutan kin.