The New 'Twin Peaks' Book Will Answer So Many Questions
The original cast is back for an oral history of David Lynch's American fever-dream.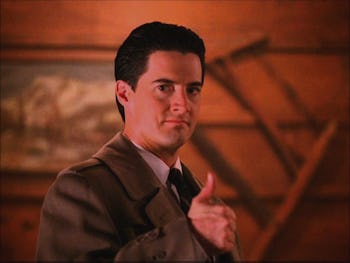 YouTube
David Lynch's long-awaited Twin Peaks followup won't air until 2017, but the voices of the original cast will fill in certain blanks from the show's long absence with a new audiobook and novel tie-in.
A whole slew of original cast members are back in the new season: Kyle MacLachlan, Russ Tamblyn, Michael Horse, Chris Mulkey, and David Patrick Kelly will join a bunch of newcomers like Michael Cera, Ernie Hudson, Eddie Vedder, and Naomi Watts. Someone as batshit crazy but talented as Lynch could make it work somehow, but to catch us up on the damn fine madness of Twin Peaks, series co-creator and executive producer Mark Frost will release a companion book and audiobook that bridges the story gap between the 1991 finale and the new season.
According to Entertainment Weekly, Frost's novel will be called The Secret History of Twin Peaks. The book will features stories about what Special Agent Dale Cooper, Dr. Lawrence Jacoby, Hawk, Hank Jennings, and Jerry Horne have been doing in the intervening years since 1991. The audiobook will feature the voices of veteran cast members Kyle MacLachlan, Russ Tamblyn, Michael Horse, Chris Mulkey, and David Patrick Kelly, and also include actors Amy Shiels, James Morrison, and Robert Knepper, whose new characters will appear in the forthcoming episodes.
"I am thrilled that both original cast members and new actors will be coming together on this project to bring this other aspect of the world of Twin Peaks to life," Frost says.
This kind of companion book may seem to be a cash grab – but its worth it if only to get fans up to speed after all these years. The Secret History also joins in the long list of spin-off books about Twin Peaks stretching back to the original series.
Lynch's daughter Jennifer Lynch wrote The Secret Diary of Laura Palmer in 1990 as an inside look into what drove the key character of Twin Peaks to her gruesome end. Mark Frost's brother Scott also wrote two Twin Peaks companion books. One from 1991, entitled The Autobiography of F.B.I. Special Agent Dale Cooper: My Life, My Tapes, was supposedly a series of transcripts from Cooper about his childhood leading up to his assignment to find Laura Palmers killer. The other, titled "Diane…" - The Twin Peaks Tapes of Agent Cooper, was an audiobook of Cooper's messages to his infamous unseen FBI contact Diane.
The new book will be released on October 18, while the new season will debut sometime in 2017.