'Power' has Finally Given Us the Greatest Holly Gift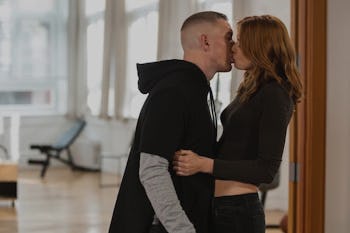 Starz Public Relations
There are very few feelings greater than the sensation of a story working out the way that one wants it to. Remember when King Joffrey Baratheon was killed on Game of Thrones and every viewer was singing holy hymns and doing praise dances? Power has finally answered one of our many prayers. The Wicked Witch of the West, aka Holly, is finally dead.
In Episode 5 of Season 3, Tommy dramatically kills Holly by choking the life out of her after he learns she ordered an assassination of Ghost. In a powerful scene, Tommy finally makes his choice to side with Ghost – understanding that his friend will go to any lengths to protect him. No one, obviously, is sad to see her go. She was a weak-minded villain who was trying to mosey her way into Tommy's world, and the show had become focused on her subplot. She was a snake, backstabber, and a terrible person, so it was only a matter of time before something bad happened to her.
But that said, the manner of her death was completely unexpected. We noticed Tommy's downward spiral, but never expected his anger to lead him to kill the woman he loves. Her death in relation to the holistic story could not have come at a better time and will prove to be a more pivotal moment in the show than simply reuniting Ghost and Tommy.
In typical Power fashion, Tommy is bound to find out that Holly was pregnant with his child. As the only person who knows that Holly was pregnant, Tasha may relent one day and tell Tommy the secret. How Tommy will handle the news isn't clear, though. If he simply shrugs it off, it would show that he is completely over Holly and the feelings that he thought were sincere signs of eternal bliss were just that – feelings. But, we can also see Tommy return to his downward spiral, and therein lies the true issue, going forward.
Ghost and Tommy need to be on the same page to fend off both Lobos and Kanan. One wrong move or a slip in judgment will mean the end of one or the other. Because we want to see both Tommy and Ghost live, we have to hope that the pregnancy does not surface. If it remains an unspoken topic for the rest of the show, there might be hope for the two to make it out alive. But, seeing the way Tommy interacts with Ghost's son, Tariq, Tommy is incapable of handling the knowledge that he killed his future child. The consequences of Holly's death may be dire.
Courtney Kemp and the writers at Power just made a lot of people happy. With Holly gone, the show just got a little bit brighter. Hopefully, Tommy does not get involved with another crazy woman. Opposites attract, my man.
Correction (08/15/16): In the original version of this article, Courtney Kemp's name was written as Courtney Kemp Agboh, when, in fact, she goes by Courtney Kemp. The article has been edited to reflect that.