Michael Phelps's Gold Medals Weigh 14.6 Lbs and Other Stats
The legendary Olympian's career through the numbers.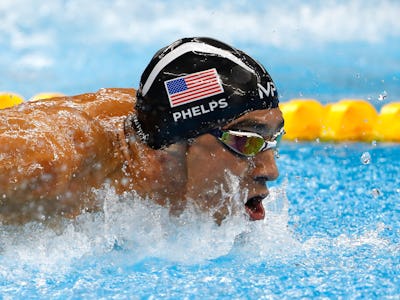 Getty Images / Clive Rose
It's no question that Michael Phelps is the greatest swimmer of all time (unless Katie Ledecky has something to say about it after another few Olympics). Tonight, he finished out his fifth run at the Olympics with another gold medal in the 4x100m medley. But before his golden sign-off from the Rio games, he announced in a Facebook live video that he would be retiring after this race, despite his teammate Ryan Lochte's "guarantee" that there would be four more years for the legendary swimmer.
Here's a look at the most decorated Olympian of all time through the numbers:
28: His total number of Olympic medals, which includes 23 gold, 3 silver, and 2 bronze medals.
38th: The rank Phelps would have in number of overall medals if he were a country. He would be tied with South Africa.
83: The total number of medals he's won from worldwide championships.
11,800 meters: The total distance Phelps has covered in the 63 Olympic races he has competed in.
13: The number of gold medals Phelps has won in individual Olympic events. He now holds that record, surpassing the previous record-holder, Leonidas of Rhodes, who won his 12th individual gold medal in 152 B.C.
21: The age when most swimmers typically reach their peak. Phelps is 31.
6 gold and 2 bronze medals: The number of medals Phelps had when he was 19 years old, the same age Katie Ledecky is now. Ledecky, who took a picture with Phelps when she was 9 years old, now has 5 gold and 1 silver medal.
12,000: The number of calories Phelps said he ate every day back in 2008. More recently, though, he's cut that preposterous number down to just what he "needs."
14.6: The approximate weight of all 23 of his gold medals. If he wore them all at once, it'd be pretty detrimental to his health.
3: The number of months Boomer Phelps, his son with fiancée Nicole Johnson, has been in the world.
Congratulations Michael Phelps, for being one of the most numerically impressive Olympians to have ever lived.