Rae Sremmurd Gets Trippy With 'Sremmlife 2'
The 5 best songs off of the platinum recording artists new album.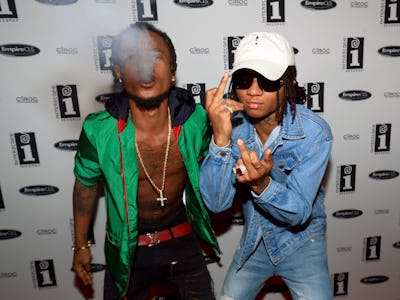 Getty Images / Christopher Polk
In 2014, Rae Sremmurd burst onto the rap scene seemingly out of the blue with the single, "No Flex Zone." Almost instantly, their music became a staple at every house party, club, kickback, and family gathering. They had us questioning how one can "have no type" and at the same time proclaim boldly, "Bad bitches is the only thing that I like." Their debut album, Sremmlife, went platinum and was heralded as one of the best albums of 2015.
We may have been expected to believe that the rap duo would follow its winning recipe and create another album filled with party anthems and good vibes. Although the new album, Sremmlife 2, has some of those features, it is a different feel from their first album and demonstrates a sort of maturation and change in sound for the artists. The album is calmer than the original Sremmlife, with lyrics and a vibe that feels more drug-infused, similar to a Future album. The change is not unexpected, though. "No Type" demonstrated that Swae Lee and Slim Jxmmi can flow on a much slower beat instead of going apeshit crazy.
Here are 5 of the best songs off of Sremmlife 2:
5. "Start a Party"
This is one of the few songs off the album that sounds like it could have fit perfectly on the original Sremmlife. "You don't smoke loud, be quiet / Shut the fuck up" are the kinds of lyrics that make it a perfect song to turn up to.
4. "Black Beatles" feat. Gucci Mane
If this song gets released as a single, it is bound to turn into a club banger. Mike WiLL Made-It has a knack for creating beats that make you instantly start to bop. Gucci Mane has also been killing his features of late, and this is no different.
3. "Now That I Know"
Rae Sremmurd went from rapping about dating the perfect girl on "This Could Be Us" to singing about breakups with a girl. It's the perfect type of breakup song that makes you dislike yourself, your ex, your side piece, and every other person in between. When you're not going through relationship problems, it's still a kickin' tune.
2. "By Chance"
Every time this song comes on at a party or in a club, every person is singing and dancing. If you are able to fight the urge to move or sing along, you might need to go get some help. Go see a doctor.
1. "Look Alive"
There are so many good pieces to this song. It is the perfect example of the slower vibe that Rae Sremmurd is going for in this album. The reverb gives it this otherworldly feel. Swae Lee's voice sounds perfect on the hook of the beat. In the future, he should sing much more because unlike many rappers, he actually sounds good doing it.