China Might Beat the U.S. at Science by 2020
A new spending plan aggressively increases the nation's science research and development.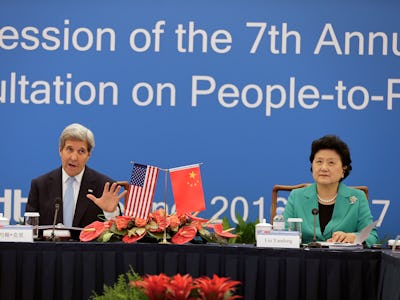 Getty Images / Pool
The U.S. might be doing pretty well at the Olympics thus far, but when it comes to science education, things aren't so gold medal worthy.
The OECD Science, Technology and Industry Outlook 2014 projects that China will outspend us in science research and development by 2020 — much sooner than we previously believed.
The areas of emphasis are pretty wide-ranging: computer circuitry; telecommunication; nuclear power; deep-sea exploration, quantum computing, brain science, lunar exploration, plus loads more stuff that we could stand to focus on more here at home, really. There's also a lot of government-speak about raising efficiency and fostering creativity and directing resources to strategic areas and so forth.
The State Council has rolled out a timeline that will apparently make China an "innovation powerhouse" by 2020, which read one way could be a big subtweet to America on being competitive in scientific development.
Xinhua English News also reports that "China will also expand cooperation in science and technological development with other countries, especially those along the Belt and Road. The government will encourage joint research projects between Chinese and foreign institutes and enterprises to attract more high-level foreign experts to work in China."