'Stranger Things' Season 2 May Reveal Why Hopper's Daughter Died
Actor David Harbour's Reddit AMA might reveal a new secret to explore in Season 2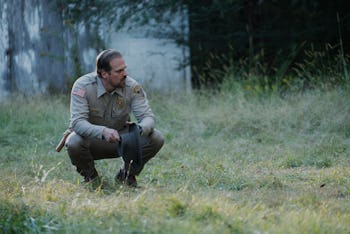 Netflix
Netflix has yet to officially announce a second season for its late-summer hit Stranger Things, one of the lead stars of the supernatural thriller might have revealed some big plans for Season 2. Beware: spoilers ahead.
David Harbour, who plays the inquisitive Chief Jim Hopper in the story, answered a few questions on Reddit, and at first, he offered boilerplate stuff about the most challenging aspects of shooting the show — the "Upside Down" scenes —and noted whom he'd most relate to (Mike). But then someone asked him about his character's dead daughter and things got really interesting.
"Do you know what specifically Jim's daughter died of in the show?," asked Reddit user hardycorman. As anyone who's binged the first season knows, Hopper's daughter supposedly died of cancer. She's only referenced in the early episodes of the series, when Hopper says she's alive and well living with her mother in the city, but is actually seen in Chapter 8 when Hopper and Joyce Byers go to rescue Will in "Upside Down." Harbour's answers reveals that might be the case.
The actor responded with "Yes, but it's a secret we may explore in Season 2, so don't wanna say right now."
Fans know that things aren't exactly what they seem in the fictional town of Hawkins, Indiana, and the implication that Hopper's daughter Sarah didn't die of cancer and actually might be involved in the secret child experiments led by Matthew Modine's evil Dr. Brenner — the same ones that created Eleven — is a Season 2 secret hiding in plain sight.
When Hopper's daughter is first seen in Chapter 8, she suddenly stops and looks freaked out while playing hide and seek. Could it be possible that she's experiencing some telekinetic flashbacks of her own just like El? She might have actually died of cancer, but was her illness brought on by experiments done at the Hawkins National Laboratory? Could this be why the government so easily made a deal with Hopper after he and Joyce were captured?
The only way to find out is if Netflix gives Stranger Things a second season — even though it really doesn't need one.