Here's What the Jeff Bridges-Approved Big Lebowski Sequels Would Be
The film's star loved one pitch, and had an idea of his own.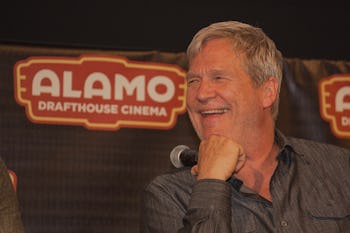 Getty Images / Rick Kern
When it first released in March of 1998, The Big Lebowski became an instant sensation, bringing the blessings of afternoon White Russians and endless quotes into our everyday lives. The now-classic film has a dedicated following of fans – and even several conventions where passionate Lebowski lovers convene to celebrate their favorite film. The Coen Brothers' masterpiece set Jeff Bridges on a path to international stardom, and now, the actor says he's into the idea of more films.
During a recent press event for his upcoming film, Hell or High Water, Bridges mentioned that continuing the Lebowski saga is something he'd be open to. In fact, at the press day, Bridges went as far as saying that he thinks a sequel would be a great idea, and he even had his own input on what it could be.
On the table right now is a Lebowski follow-up that focuses on John Turturro's character from the film, Jesus. The film is being pitched as a "spiritual sequel" and would follow the character into further development. "I've heard that for years, John saying that," said Bridges during an interview with Business Insider. "Yeah, it might be fun playing a little cameo as The Dude." Still, Turturro has said in the past that he's had quite a few legal obstacles, standing between him and a sequel.
On the other hand, Bridges seems to have plotted out his own idea for a sequel, but not pitched it quite yet, and it all has to do with a comment mad by The Stranger, Sam Elliott's surly guide in the film. "I'm hoping they make a little Lebowski [sequel] because it's all set up," said Bridges, referencing to what The Stranger told his character. "I impregnated Maude. As The Stranger [Sam Elliott] says, 'There's a little Lebowski on the way,' you know? It's likely not been pitched yet because the premise is a little predictable, but with the standing that The Big Lebowski has in pup culture, it might not be too far of a shot away from success — plus, Bridges says he'd get involved with it. For now, though, it doesn't look like any Little Lebowski sequels are on the table.