Dota 2's New VR Spectator Ability Puts You on the Battlefield
Get up-close and personal with your favorite heroes.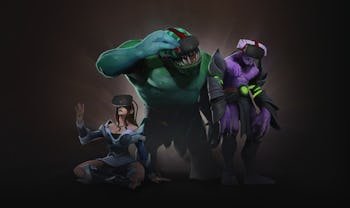 Valve
Let's cut to the chase: DoTA 2, the massive online battle-arena game, is about to get much, much more intense. For the spectator who only catches the odd match on Twitch or ESPN2, staying on the outside looking in can be lackluster, primarily because most of the things that happen on the battlefield are simply too quick or small for the untrained, unfamiliar viewer. But now, the developers at Valve intend to change that.
Valve is no stranger to VR — the ApertureVR experience inspired by Portal is a great example of this. But while Portal, with its first-person perspective and puzzle-solving focus, was practically made for VR. DoTA 2, on the other hand, offers a new set of exciting challenges.
Players and spectators alike are going wild for an all-new addition that happened to come squeezed into a quick blog post from Valve on Wednesday. The experience puts players on the battlefield during a game, giving them up-close looks at the attacks and maps that they've only gotten to see from "above" in the past. Much like the actual game, players are able to teleport all over the map during a game, and can get a rundown of full stats from each team with a "control center" experience that fans can access during the game.
Valve says that they're continuing to work on the VR aspects of the game leading up to the international competition, and is asking fans with VR headsets to send any feedback about problems that they find along the way.
The DoTA VR hub is available now, so jump into a game and check it out for yourself in real time.