Why John Oliver Brought Usher, Sheryl Crow, Cyndi Lauper Together
Usher, Cyndi Lauper, and Josh Groban don't want their music played at your campaign stop.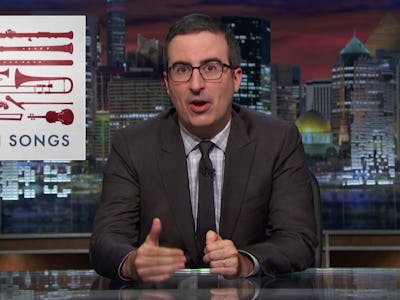 In an election season as divisive as this one, it's no wonder many musicians are speaking out against the use of their songs at political rallies and conventions without their permission. Several artists have asked Donald Trump to stop using their music to pump up the crowd before his speeches, including the Rolling Stones, Adele, and Neil Young. Steven Tyler even sent Trump's campaign a cease-and-desist letter ordering him to stop using Aerosmith's "Dream On" at rallies because it "gives the false impression that he is connected with or endorses Mr. Trump's presidential bid."
On Sunday night, John Oliver returned from his three-week hiatus to rail against the Republican National Convention and give artists a platform to speak out against the unauthorized use of their music by politicians. "If artists want to lend their music to politicians, that's fine," Oliver says. "But it is not okay for politicians to just take their songs. This happens every single election, and it is time for musicians to come together and take a stand."
Oliver brought in Josh Groban, Usher, Sheryl Crow, Cyndi Lauper, Michael Bolton, and several other artists to let politicians know they're tired of having their songs politicized. The musicians performed their own collaboration, "Don't Use Our Song," in front of green screen images of diners, farms, and other stereotypical American scenes. "We noticed something's wrong, and it's gone on way too long," Usher sings. "So we're asking you right now: Stop using our songs."
Trump, who made his entrance at the RNC to "We Are the Champions," used the song without receiving Queen's permission or blessing. "Yes, that is Queen being played at the Republican National Convention," Oliver says, incredulously. "So it's with a heavy heart that I announce Freddie Mercury, dead again at age 69." Stephen Colbert also pointed out the irony of that particular musical choice: "Yes, we are the champions of the world and we are going to restore conservative American values by entering to the music of a bisexual Englishman."
Not only do politicians like Trump not ask for permission to use these songs, but they often don't pay for the usage. If I wanted to sing and not get paid, I'd be on Spotify," Josh Groban sings in the video.
And this isn't the first election cycle this has happened — politicians have been appropriating pop music for years. As Oliver points out, Ronald Reagan famously used Bruce Springsteen's "Born in the U.S.A." in 1984 for his re-election campaign, despite the song's anti-Vietnam War message. In 2000, Tom Petty objected to George Bush's use of his song, "I Won't Back Down." John Mellencamp has spoken out against Reagan, Bush, and John McCain for using his music. And last year, when Wisconsin Governor Scott Walker used music from the Dropkick Murphys, the band hit him with this:
The star-studded crew in Oliver's video gave politicians one piece of music they can use "anytime for free": a cat pounding its paws into a keyboard.