Sex Life Hackers and the New Erotic Hardware
This is what happens when engineers decide to get freaky.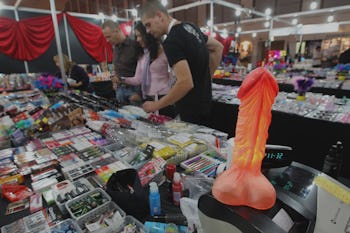 Getty Images / Sean Gallup
It's called "The Hammer."
It's not an organic organ — — yet, anyway — but someday it might be. For now, the Hammer is a roughly seven-inch silicon dildo embedded with "two force sensors, a strip of individually addressable RGB LED's, and an accelerometer," linked to a custom-built, custom-programmed Arduino.
The Hammer is, as its inventor Dr. Kit Stubbs has written, "the most beautiful, glowing, rainbow penis in the world." It is also what happens when hackers decide to get freaky: they end up breaking all the pre-existing rules and creating a new future for sex, gender, and technology.
Stubbs holds a Ph.D. in Robotics from Carnegie Mellon. After graduate school, they — their preferred pronoun — turned their technical knowledge to more titillating pursuits.
"This is not exactly what I though I'd be doing with my Ph.D. when I got it, but it's been a lovely ride and I'm happy to be here and share it with you all," Stubbs said during the "Hacking Sex: Toys, Tools, and Tips for Empowerment and Pleasure" panel at the Eleventh HOPE Conference, the oldest hacking convention in the United States. Stubb's panel explored how technology can make sex, well, sexier.
The first step, before any technology gets involved, is breaking down the traditional notions of sex. The "hacker mentality," as it were, centers on this kind of rebellion against the norm as well. In this case, the norm is that "sex" always means "penis in vagina."
"I like to think of sex as the consensual exchange of erotic energy," Stubbs said, paraphrasing Dr. Marty Klein, a pioneer in sex research. The way they see it, hacking sex means not focusing on the genitals participants have, and instead on how they can create an enjoyable experience for both parties that doesn't discriminate on gender, sexuality, physical characteristics, or disabilities. Basically, Stubbs thinks sex is for everyone.
Stubbs was assigned female at birth, but in the past year, they have come to identify as non-binary (i.e., not identifying with the system of male and female genders), using neutral pronouns like "they" and "them," rather than gendered ones like he or she. They also identify as pansexual. "Basically, I'm attracted to humans," the say.
Hackers like Stubbs didn't invent the concepts of gender fluidity or complex sexuality, but, in many cases, they're starting to create hardware that brings those concepts into physical space. Stubbs started with crowd-funded sex toys, like DameProducts's EVA toy, and several other toys meant to increase accessibility and technological empowerment during sex. The problem that many of these future-dildos and devices face, however, is patent trolls. The "Teledildonics" industry is fraught with patent disputes, as shell companies file generalized patents to ensnare legitimate inventors into costly lawsuits when they create new tech.
Fortunately, hackers aren't about to let patents stop them from getting off. Stubbs explained the process behind 3D printing custom silicon sex toys, the same way they created the Hammer. Here they are demonstrating the Hammer at Burning Man in 2013 (try about 12 minutes in for the lightshow).
Like many HOPE attendees, Stubbs is also a giant nerd (in the best sense of the word), so if you've ever wondered what a 3D-printed silicon sparkly dildo with a TARDIS embedded in it looks like, now you know:
And, yes, these things do need to be tested. Stubbs says they've experimented with the Hammer just a few times before (as it's still a prototype, and not the most ergonomic right now). The effect, they said, is something like "if you've ever put your finger over a flashlight — that, but with a flashlight-dildo in my pussy."
"Sex always seems like such a serious subject — like, nooo! Sex is silly, sex is sometimes messy, sex is fun! It's okay to laugh!" Stubbs says, holding up the Hammer as the LED lights danced up and down the silicon shaft. "It's almost hypnotic. It's like a staring into a campfire sometimes."
But outside the flashy (literally) dildos, hacking sex is just as much about people's attitudes and approach to gettin' busy as it is about the technology.
Stubbs's latest project is the Effing Foundation for Sex-Positivity, a non-profit organization that wants to "reduce sexual shame" and normalize the healthy pursuit of recreational sex by sponsoring sex-positive artists and educators. The end goal, Stubbs says, is creating technology that can help partners and individuals to get off however they feel most comfortable. In other words, Stubbs wasn't joking about the cybernetic cock — at some point, technology might make it possible for people to augment or change their genitals to best serve their sexual desires.
Until then, there's the Hammer.