Major Lazer and Justin Bieber's "Cold Water" Will Be the Most Overplayed Song of the Summer
The new song by Major Lazer, Justin Bieber, and MØ will eventually drive you crazy.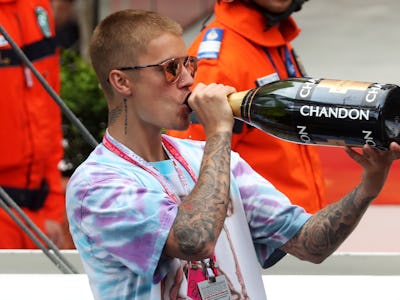 Getty Images / Lars Baron
The idea of moderation is a far-fetched concept in popular music. Between the radio, clubs, and college kickbacks, we have a bad habit of running songs into the ground by putting them in constant rotation for months at a time. The EDM, hip-hop, and pop music community is no stranger to the theory of the overplayed song. This year, you cannot go more than 10 minutes without hearing Desiigner's "Panda", Drake's "One Dance", or Rihanna's "Work". The next song up to join the list of overplayed songs for the year? Major Lazer, Justin Bieber, and MØ's "Cold Water".
DJ and producer, Diplo, announced in late May that Danish singer, MØ, and leader of a cult of followers that includes both little girls and grown men, Justin Bieber, will appear on Major Lazer's upcoming single, "Cold Water". Both of the songs, "Where Are Ü Now" featuring Justin Bieber and "Lean On" featuring MØ, were very successful in 2015, so it made sense for the Major Lazer crew to collaborate with the two singers and put them both on the same track.
"Cold Water" is a solid song. It is softer than what we expect from Major Lazer. The vibe is extremely chill with soft, guitar plucks overlapping the dancehall- influenced rhythm. MØ's verse could have been longer and it would have been interesting to see if Bieber and MØ's vocals could have been laced over each other. But, it actually sounds like the perfect summer anthem. You're not going to sweat too much trying to fist pump and you don't feel pressured to jump into a mosh pit as with other EDM songs.
But, if the song is actually good, why will it be overplayed? The song fits all the criteria for an overplayed song in 2016. It features Justin Bieber, whose followers cannot help but constantly play his music until everybody's ears fall off, it came out in the perfect season, old and/or prejudiced folk will enjoy it because it's not rap music, and it's cross genre. However, the most important trait is the strong Caribbean influence. "Work", "One Dance", and "Controlla" are all big songs because of the Caribbean undertones. The last time Justin Bieber was on a dancehall influenced song – a little song named "Sorry" – it was extremely popular and was also overplayed. So, it is logical to assume that a song with a similar format will reach similar success.
Overplaying a song is not necessarily a bad thing. We love certain songs more than others. Even when we have heard the same song a million times, we still sing it in our heads or hum it when we hear it at a party. But, there is a beauty in moderation. It is what separates the classics from the simply dope songs. But, since this song is highly likely to be overplayed, enjoy it while you still can. Pretty soon, you will want to rip your hair out of your scalp.
"Cold Water" is available for download on ITunes and Spotify.