Desiigner's "Timmy Turner" is Here, And I am Emotionally Conflicted
It's going to be the song that you hate to love.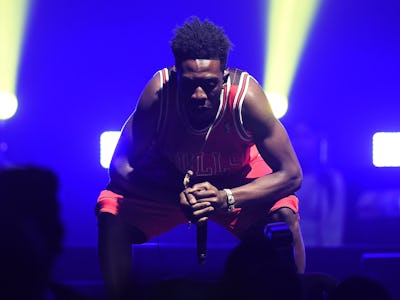 Getty Images / Nicholas Hunt
When XXL released Desiigner's now infamous freshman freestyle, the hip-hop community was not entirely sure what Desiigner was planning. The Brooklyn rapper is known for being eccentric, but "Timmy Turner Freestyle", as it became known, was not even a freestyle. It was a hook with confusing lyrics that made reference to a children's show about a small boy in a pink hat. While some people hated it, others loved it.
The song we have been waiting for has finally arrived and it raises conflicting emotions. You want to dislike it, yet you cannot help but nod your head to it. In the original video that Desiigner posted in the studio with Mike Dean, the song had what many expected — this sort of biblical, heavenly harmonizing. But, when Desiigner starts his first verse, this three key piano melody starts and it does not sound good coupled with Desiigner's mumbling. It sort of feels like a hodgepodge of pieces thrown together, as if he was trying to create both a radio single and that hidden banger that an artist lets you discover after buying the album. It could have been mixed more skillfully, which one would expect from the legendary producer and prominent Kanye collaborator, Mike Dean.
The song is sure to grow on people as "Panda" did, though. As we forget the ramblings of Desiigner and the messiness that underlays the first verse, we will focus on what does sound good — the original biblical, somber feeling that we receive from the hook. The entrance and the ending to the song sound like something that belongs on a Kanye album. In that regard, the song is catchy enough to stick. But, it should have remained what it was, a confusing melody that you could not help but hum along to.