Lil Durk Intends to "Go Number 1" With His New Album, 'Lil Durk 2X'
Lil Durk discusses his new album, goals, and the Black Lives Matter Movement.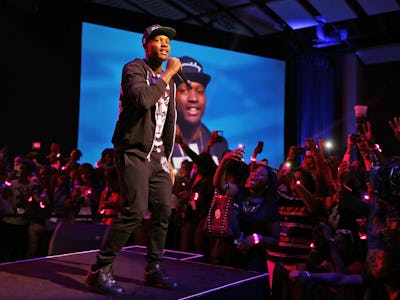 Getty Images / Tasos Katopodis
Two years ago, Lil Durk was announced as a 2014 XXL freshman. Since then, the Chicago rapper, leader of OTF, and member of the Coke Boys family, dropped his first studio album, Remember My Name, and several mixtapes that have amplified his name and sound in the hip-hop community. His second studio album, Lil Durk 2X, is set to be released July 22nd. The album is sure to produce a lot of hits with singles like, "True", "I Just Wanna", and his love ballad, "My Beyonce", with Dej Loaf. We spoke with Lil Durk to get his thoughts on the new album, this era of rap music, and the Black Lives Matter movement.
What differences can fans expect between this album and Remember My Name?
Just more turn up. We put more energy into it. Different sounds.
Since it's only been 5 years since "I'm a Hitta" was released, how do you think that you have grown as an artist since then?
My whole character as a person changed. I grew up, matured, and got smarter. From "I'm a Hitta" to Lil Durk 2X, I definitely grew a million times more.
What have you taken from the old heads in the game?
I been taking the experience and politicking, like French and Meek and Jeezy — them types to keep me on track. Especially Jeezy cause he's the OG. He's mature. He knows what's going on so I could get a little knowledge from him.
And have you taken that knowledge and passed it on to the younger, Chicago artists coming up?
More than the artists, though — everybody. Show em' that there is a way out. Smarter ways to get money, legal ways to get money.
What do you think about the new wave of rappers now like Desiigner and Lil Uzi?
I love 'em. I like yjr, as artists and as people. I know them outside of the music. They're doing their thing right now. Their wave crazy. Plus, they coming different. Uzi coming different, Desiigner coming different, Yachty coming different, who else?
21 Savage.
Yea, 21 Savage coming different. Everybody's just doing they thing. You can never even hate. The only people that's hating is the ones who ain't doing good — who look for a come up.
How do you feel about the older artists critiquing all of this new music?
Whoever is established is established. Whoever ain't, I think they should just ride the wave.
Who would you say is your biggest rap influence?
I rock with different artists. The ones that give you knowledge and you just rock with them outside the music — who make you rock with 'em. Like damn. I fuck with you so hard, I want to buy like 20 copies of your album.
So what's your big goal from this new album?
I want to get a big tour off of it. I've got a lot of potential hits on there – go number one. Instead of just dropping it, I want to drop it and be like, Oh, my shit went gold or "My CD went top 10 and shit like that. That's the goal.
You recently got a "Black Lives Matter" tattoo and you have shown support for the movement in your video for "If I Could". What are some of your thoughts on what has been going on recently?
I think a lot of it is bullshit. The last few incidents [Philando Castile and Alton Sterling] really made me mad. Those two made me mad happening back to back like that. Nobody deserves to die. When they do 'em back to back, that's when it's like they're doing it on purpose.
So what do you think we can do to fix the issues?
We doing the right thing right now. Keep protesting, peacefully. Keep killing em' with the peace. Keeping it clean and neat. As more people start reaching out and speaking with it, I think it's going to get better.
What do you say to those people who say that drill music promotes violence?
It don't. I mean, it's not promoting violence. Even though we rap about what we rap about or talk about what we talk about, we're just saying what we seen and what we been through. We ain't saying go do it. That plays a big part. As long as we ain't saying, "go kill someone." It's a difference. Like go get Lil Durk 2X, that's promoting.
What are your thoughts on the presidency, who do you think is going to win?
I hope not Trump. Yea, I hope he don't win. That nigga is an asshole.
Make sure to check out Lil Durk's new album, Lil Durk 2X, in stores and online July 22nd.
This interview has been edited for brevity and clarity.