Abrams Not Recasting Chekov for Next 'Star Trek' Film
The producer confirmed that Anton Yelchin's Chekov will not be replaced with a new actor.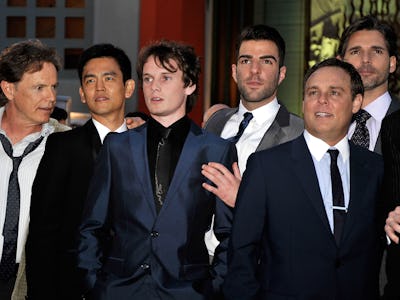 Getty Images / Kevin Winter
The tragic, early death of actor Anton Yelchin continues to echo throughout the Star Trek fan community as we grow ever closer to Yelchin's final performance as Ensign Pavel Chekov. Yelchin passed away at only 27 years old after a horrific accident in June. The fandom was already mourning the loss of Leonard Nimoy, who originally portrayed Star Trek's Spock on the history-making TV series. With possible future film installments on the horizon, the same question has been on everyone's mind: Will Yelchin be replaced?
Now, Executive Producer J.J. Abrams has opened up to clear the air and put the fandom at ease. "I would say there's no replacing him," Abrams says. "There's no recasting. I can't possibly imagine that, and I think Anton deserves better." But the future, and what will happen to the character, is a little less cut-and-dry.
"We knew going into this movie it would be a bit of a heartbreak just because of Leonard," Abrams tells Postmedia Network. "We had no idea just how devastating events would become." Regarding Yelchin's Chekov, the director says that there's a lot of consideration happening behind the scenes when it comes to what will happen to him in the film's universe. "I have thought about it, we're working on it, and it's too early to talk about it," says Abrams.
Past television shows and films sagas have all dealt with real-world death differently: just recently, fans mourned three years without Glee star Cory Monteith, who died in 2013 due to an overdose. Monteith played the show's lead male character, Finn, and Finn was in turn killed on the show, in an episode that left the cause of death vague and ended with a message from the devastated cast about substance abuse.
Star Trek Beyond will also give Yelchin a significant amount of screen time in comparison to its predecessors — a decision made when the film was still in production.