Babymetal and Rob Halford Cover Two Judas Priest Songs
The Japanese girl group continues to dominate the world of heavy metal.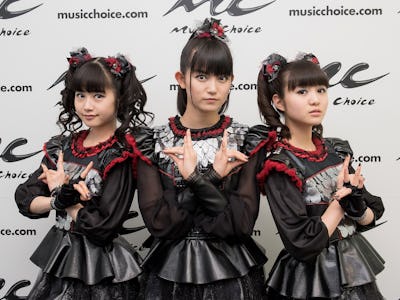 Getty Images / Mike Pont
It may not seem like history is being made in the Metal community right now, but if you look beyond the obvious, a legendary force has ripped through the genre over the past half-decade. Babymetal, a Japanese girl band featuring three members whose stage names all end in "-metal", added another notch to their studded belts last night when they took the stage with Judas Priest's Rob Halford and performed two of the band's classics.
Last night in Columbus, Ohio, the unlikely collaboration occurred on stage at the Journeys Alternative Press Music Awards, Fueled by Monster Energy. Check out the full performance below, prefaced by a whole story line about how Halford and the group came together for a legendary matchup:
Halford, also known as the "Metal God" in this performance (and in life) filled the air with his iconic high-pitched vocals, alongside Babymetal's Sumetal, to perform "Painkiller". Then, Su-Metal welcomed her band mates — Moametal and Yuimetal — to the stage for a fiery, awesome rendition of the one Judas Priest song even your grandma knows: "Breaking the Law."
The performance is stunning, and there are plenty of great highlights, including Halford's red-and-black leather coat that looks like it came straight out of Deadpool's closet. Halford was so impressed with Babymetal's energetic performance (at least, as impressed as he could be in a single post-performance press release) that he hailed them as a new frontier for metal, calling the performance "intense." Sumetal called the night "amazing and fantastic," saying that it's been her dream to meet Halford, whom she addressed as the "Metal God".
Other notable performances from the night included a throwback to everyone's high school years with a super group-style performance consisting of members of My Chemical Romance, Goldfinger and others, led by Black Veil Brides' Andy Biersack.