Fans Have Already Seen Bryan Lee O'Malley's New 'Worst World' Book
The author has been posting drawings of his new characters for months.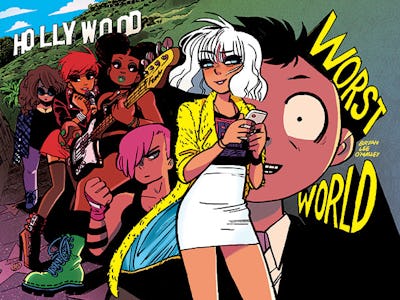 Bryan Lee O'Malley
Alongside his new ongoing comic Snotgirl for Image Comics, Bryan Lee O'Malley's next graphic novel project has been announced in Entertainment Weekly. O'Malley has been teasing his next book, titled Worst World, for months now on his personal Tumblr.
Details around Worst World are still under wraps, but the book will take place in modern-day Los Angeles and star some sort of punk band. The two leads have been revealed as 30-something Benny, and 20-something Aubrey. A trilogy of books is planned, each around 300 pages.
The thing is, people who follow O'Malley on social media should have no problem recognizing the characters featured on the announcement teaser as the artist has been posting character development drawings of several of the female characters for months. Tagging the images as "sketchbooks" and "next book", fans shouldn't be surprised seeing some familiar faces in the teaser image. The center female character with white hair in particular has been making regular appearances on O'Malley's Tumblr since August 2015.
While his initial post mentioned that he was working on a new book, the ambiguous wording made it sound as if he was simply drawing the white haired woman as practice. A month later in September of that year, the tag "Next book" began appearing alongside drawings of the character.
O'Malley will be joined by his art assistant Jason Fischer and colorist Nathan Fairbairn who both worked with him on his previous graphic novel, Seconds.